Air quality inspectors become process technicians at COM training
Jun 12, 2014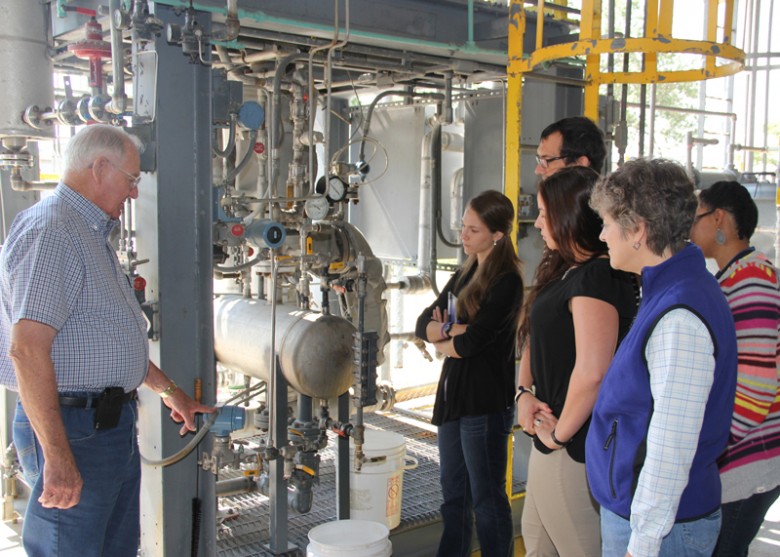 Each class is different for Pete Rygaard, who has taught process technology at College of the Mainland for more than 40 years while employed at Union Carbide for 50. This week, 22 employees from Texas Commission on Environmental Quality benefited from his rich experience during a customized continuing education class offered for the government agency.
"For two weeks we¹re going to make you process operators," Pete Rygaard told students as they began.
The class gave air quality investigators from the Texas Commission on Environmental Quality a greater knowledge of process operations. The in-depth information will assist in conducting plant inspections and determining the cause of incidents.
Though Texas Commission on Environmental Quality employees have many continuing education options, in person and online, Rygaard's class remains popular and now has a waiting list.
"We've high recommendations for taking it in person," said Jessica Gabler, an environmental investigator at Texas Commission on Environmental Quality in Waco.
Its popularity is fueled partly by Rygaard's reputation as an expert and partly as an entertainer. He keeps students sharp with humor and unconventional methods, such as pausing to pose a riddle to his students to "see if their brain matter's working."
"He gets such high marks on student evaluations for his ability to instruct and make it interesting," said Bill Raley, COM dean of industrial education. "We're the only college that has a contract to teach this class with the Texas Commission on Environmental Quality."
Rygaard blended instruction with time in the COM lab. He detailed each piece of the glycol separation unit, a 10-foot piece of equipment used in industry. He explained how computers tracked each turn of a valve and other manual adjustments to the glycol separation unit.
"All of these instruments are getting signals from the control room," he explained. "These instruments you can run manual or automatic. You know what I'm talking about because you have one on your car. It's called cruise control."
Since this class focuses on air quality and emissions, he pointed out not only how the unit functions, but each area of equipment that could
"This helps us understand if an incident was human error, an act of God (natural disaster), or something else when industries are reporting (an incident)," said Gabler.
Katie Wooten, also from Waco, said she gained a "wealth of knowledge of process equipment and how they work on a large scale."
Rygaard began teaching while working at Union Carbide. "At the plant I was selected to train new hires, and they liked what I did," remembered Rygaard. "I was sent to Puerto Rico to train operators, and I loved that."
While employed at Union Carbide, he began teaching night classes in the process operator apprenticeship program in the 1970s, the precursor to the COM process technology program. Over the decades, he has kept pace with changes to the industry.
"It's a lot more computers," said Rygaard. "Before we had computers, all of our instruments had big, round paper charts with ink pens. We all had a key, because the instruments had to be re-wound every 24 hours when we changed charts. They were spring-loaded."
Of the countless classes he has taught, this one was special.
"I'm proud to have them in this class," added Rygaard. "I have kids and grandkids. They're preserving this round ball for them."
COM offers a variety of specialized training to government, business and private organizations. To learn more about customized continuing education training, visit www.com.edu/ce.