COM Foundation gala to honor Doyle family
Jun 10, 2014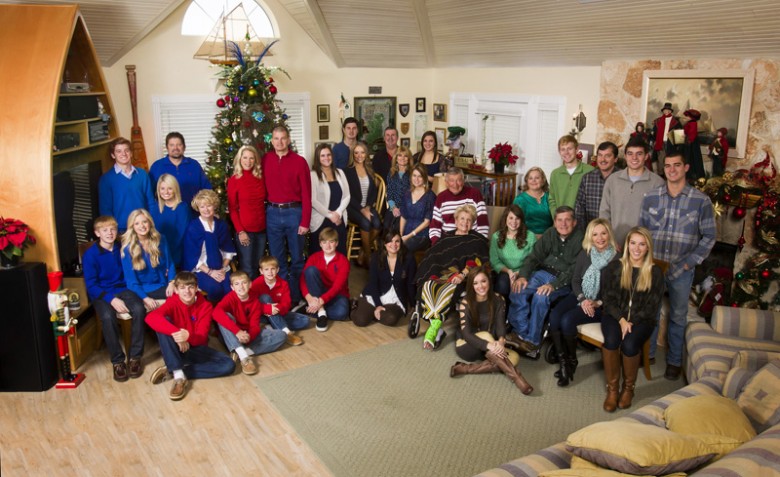 Rarely has one family given so much to a community. A family including two mayors, a judge, business leaders and ardent nonprofit supporters, the Doyles have dedicated their lives to improving the community through their civic service, leadership and volunteering.
Their efforts, spanning almost six decades, will be honored Sept. 19 at the College of the Mainland Foundation Beacon of Hope Gala at Tuscan Courtyard.

The COM Foundation Gala honors individuals for community service, while raising money for student scholarships.

"The focus of this year's gala is to raise scholarships especially for summer, dual credit and part-time students, since 71 percent of our students attend part-time," explained Mary Ann Amelang, vice president for institutional advancement and executive director of the COM Foundation. "Scholarships are funded by interest from endowments and direct donations from individuals and companies."

Each year, the foundation awards nearly 100 scholarships to deserving students based on criteria including academic success, personal interests, volunteer activities and financial need.

That is a mission to which the Doyles relate.

Since settling their family in Texas City in 1960, Charles T. "Chuck" and Mary Ellen Hipp Doyle have devoted their lives to the banking business, raising their five children, and helping others in the community.

Now chairman of the board of Texas First Bank as well as chairman of Texas Independent Bancshares Inc., Chuck has served in a number of positions, including mayor of Texas City from 1990-2000. Under his leadership in 1997, Texas City won the All-America City Award after being named a finalist in 1995 and 1996. The National Civic League recognized Texas City as one of 10 cities that year where citizens collaborated on projects to improve quality of life. He served as chairman of the Independent Community Bankers of America and served on the board of directors of the Federal Reserve Bank of Dallas.

For her part, Mary Ellen, a journalist, became the first female president of United Way Galveston County Mainland, which unites 31 partner agencies to provide programs to improve health, education and income in the county. Mary Ellen has been involved with United Way for more than twenty years. An ardent supporter of nonprofits, she has served with Hospice of Galveston County, was co-chair of the COM Foundation Gala in 1998 when it began and helped raise $50,000 to launch the Mainland Youth at Risk project. She has also helped with fundraisers for the TCISD Foundation for the Future.

The fruit has not fallen fall from the tree. Their children, Matthew, David, Denise, Patrick and Christopher, all serve the community in projects about which they are passionate. Chuck and his sons, Matt, Pat and Chris, have all been named among the year's Five Outstanding Young Texans. Chuck received the award in 1964, Matthew in 1993, Patrick in 2003 and Chris in 2006.

Matthew Doyle is mayor of Texas City and serves as vice chairman of the board of Texas First Bank, Texas First Mortgage and Rust-Ewing Insurance Agency. For his community service, the U.S. Jaycees named him one of Five Outstanding Young Texans in 1993 and one of Ten Outstanding Young Americans for 1994. The Texas City ISD Hall of Honor inducted him in 2006.

Patrick Doyle, also a community leader, served three terms as Justice of the Peace – Precinct 5 in Galveston County and served as Galveston County Commissioner for Precinct 1. The Texas City ISD Hall of Honor inducted him in 2011. He is an attorney and partner in the Galveston law firm Bettison, Doyle, Apffel and Guarino P.C.

David Doyle has continued the family tradition and is a certified public accountant and chief information officer for Brinker International. A leader, he also serves on the boards for Texas Independent Bancshares Inc. and the Plano ISD Education Foundation.

Denise Doyle Burkhart, an educator for more than 20 years at Santa Fe ISD, Pearland ISD and Texas City ISD, is passionate about improving the community through education. Some of her former second grade students honored her as their "Most Influential Teacher" at their Honor Grad Banquets at Santa Fe ISD.

Christopher Doyle, committed to helping community members in need, serves as advisory board member for the Salvation Army in Galveston County and as president/CEO and a member of the board of directors of Texas First Bank. An Eagle Scout, Christopher frequently volunteers with the Boy Scouts of America, serving as committee chairman and assistant scout master of Troop 246.

The College of the Mainland Foundation Gala will be held at 6:30 p.m. Friday, Sept. 19, at Tuscan Courtyard, 7001 Highway 3 in Texas City. Tickets are $125.

For more information contact Denese Angelle at dangelle1@com.edu or 409-933-8675.

Established in 1972, the COM Foundation is a nonprofit providing funding for student and college needs, currently governed by 22 board members. The gala board members serving on the fundraising committee include Doreen Hughes (chair), Marge Dale, Chris Delesandri, April Howe, Rosalie Kettler, May Carol Lieblong, Grover Salsbury and Ron Sokol.