Nursing students win awards
May 21, 2014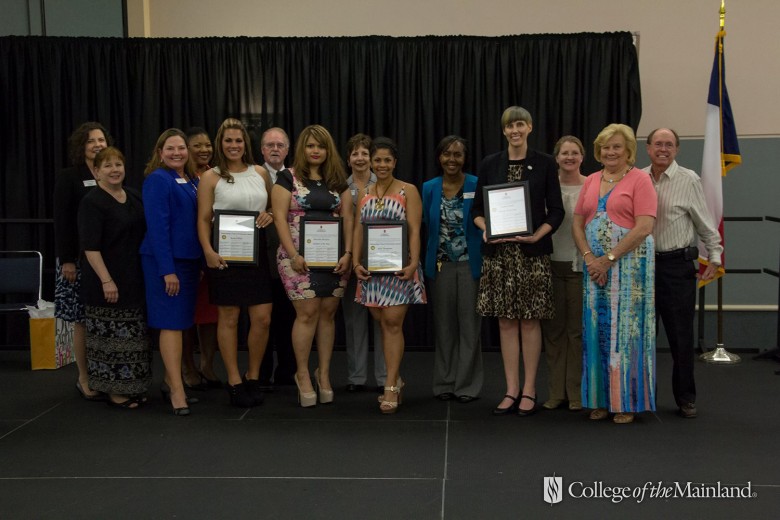 Empathy, endurance, patience and dedication are just some of the qualities demonstrated by Marcella Brizuela, Sandra Fields, Kelli Thompson and Rachel Witte, winners of College of the Mainland's (COM) nursing student awards.

The awards were presented at the recent Pinning Ceremony held Thursday, May 9.

"Each year, two students are selected by the faculty to receive the Student of the Year and the Outstanding Clinical Performance Awards," explained Director of Nursing Gay Reeves. "These two coveted awards are given by the faculty based on established criteria that reflects the professional and ethical character of an outstanding graduating nurse.

"Since COM admits a class of students in both the fall and spring semesters, each year at the Pinning Ceremony, a student is selected from each of the two classes to receive the awards," she continued.

May graduates Marcella Brizuela and Kelli Thompson received the Student of the Year and Outstanding Clinical Performance awards, respectively, and were recognized during the ceremony.

June graduates Sandra Fields and Rachel Witte received the Student of the Year and Outstanding Clinical Performance Awards and were also recognized.

"I am very proud of our students," Reeves continued. "Not only have they demonstrated the knowledge and skills needed as nurses, but they have shown, through example, that they have a heart to serve."

For additional information regarding the COM Nursing Program, visit www.com.edu/nursing.