COM police academy grads earn 100 percent pass rate on state exam
Jan 31, 2014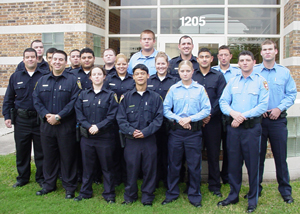 Eighteen new graduates are ready to answer any call after earning a diploma from the College of the Mainland Basic Peace Officer Academy and passing the state exam on the first attempt.

Recalling information from 769 hours of instruction, students applied knowledge learned in classroom and hands-on training.

In the semester-long academy current and former peace officers show students how to handle challenges, communicate clearly and apply laws in various situations.

"We make sure when they walk out of here they know everything they need to take the test," said program coordinator B.J. Whitburn. "Scenario training, especially, tests their ability to put everything together and apply it."

For more information on the COM Basic Peace Officer Academy, visit www.com.edu/law-enforcement.