BP donates $15,000 to COM
Jan 2, 2014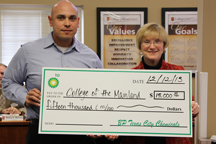 Continuing a longtime partnership and supporting its commitment to education, BP made donations totaling $15,000 on Dec. 12 to College of the Mainland in Texas City. One donation will fund five scholarships of $1,000 each for students in the COM Process Technology Program. A second $5,000 contribution will provide supplies and equipment for the COM Process Technology Program, while a third $5,000 donation will cover books and supplies for the COM Collegiate High School, which enables students to earn an associate degree and high school diploma simultaneously.

"BP is very proud of our partnership with College of the Mainland," said Victor Alvarado, BP Texas City Chemicals plant manager. "COM's initiatives produce skilled employees who are very valuable to BP and others in the industry. We are pleased to help play a role in developing the next generation of industry leaders."

BP is America's largest energy investor, investing more than $55 billion in the last five years. The company is the nation's second-largest producer of oil and gas and a leading supplier of the chemicals used to make essential everyday products, from plastic bottles to clothing and fiberglass auto bodies. Throughout all 50 states, BP business activities help support more than 260,000 total jobs and contribute tens of millions of dollars to academic research, educational initiatives, and recruitment activities.

"We love the partnership with BP. We're more than pleased to have this donation that supports COM's outstanding process technology and Collegiate High School students," said COM Foundation director Mary Ann Amelang.

The mission of the COM Foundation is to support and encourage educational excellence at COM through funding scholarships for deserving students. To learn more, visit www.com.edu/giving/com-foundation/.

.