9/11 memories spur winning speech
May 3, 2013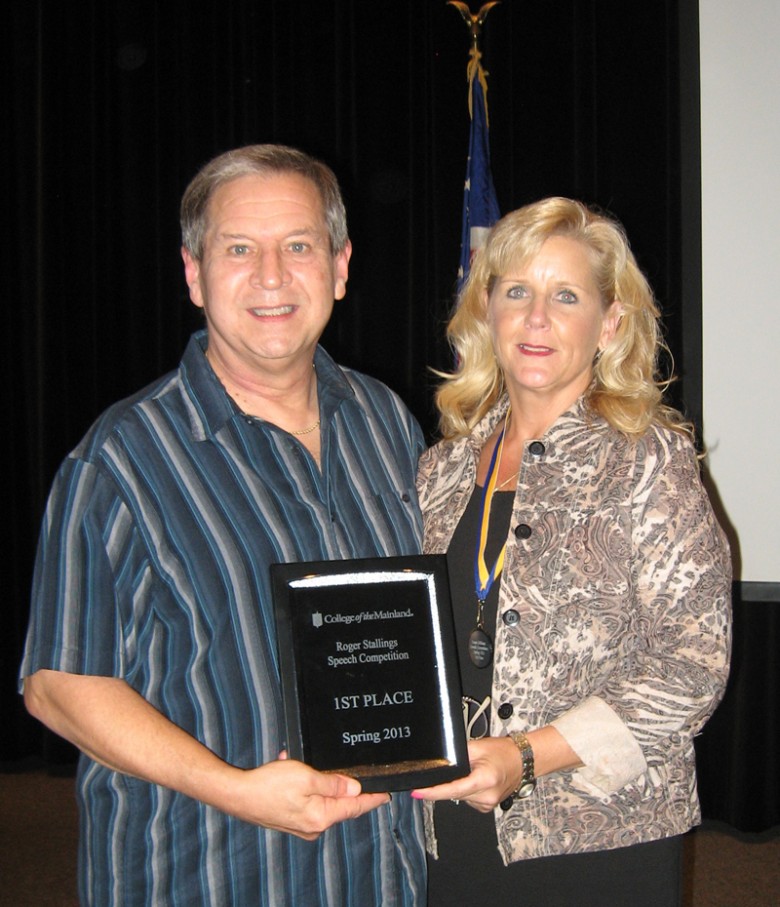 Jaw-clenching heart-pounding fear—that's what many felt one Tuesday morning in September 2001. Donna Haney still remembers the moment she heard the news of the first tower's hit and thought of one thing—her daughter in New York scheduled to interview that afternoon at a firm located in that tower.
"It was a horrible day," she said.

Though her daughter called that afternoon to say that she was safe, the day is marked in Haney's memory. This semester in Roger Stallings' speech class, she began researching "fear" and came across the word "xenophobia"—which instantly brought back memories of that day and later news reports of some individuals' anger against foreign-born Americans after the tragedy.

Her winning speech "Xenophobia and Prejudice," delivered at College of the Mainland's Roger Stallings Student Speech Contest, traced the signs and effects of xenophobia, or fear of foreigners. She recounted the shooting of Balbir Singh Sodhi, killed by someone who targeted the man wearing a turban.

"He was simply shot because he was different," she said.

Through statistics and personal anecdotes, she shared about the causes and effects of the phobia and challenged her listeners to re-examine their own beliefs and feelings.

"Being a foreigner does not equate being bad," she stated.

This semester while working full-time, Haney is taking 15 hours of classes online for convenience. Even her speech class is delivered online, with students sending in research and outlines before coming to campus three times per semester to deliver their speeches. Stallings had heard her speech in class and nominated her for the competition.

"She just blew me away when I heard her," said Stallings.

He and other COM professors selected the top student in each of their speech classes to compete. After the first round of competition, COM students Michael Garcia, Tammy Spino and Sharnae Sanderson also became finalists. Each of their informative presentations highlighted a different topic, from the effect of Disney princesses on young children to how to treat victims of child abuse.

"I love to hear the students talk about topics they're passionate about," said Dr. Vicki Stanfield, who was one of four competition judges. "They were all excellent."