COM debater awarded
Apr 1, 2013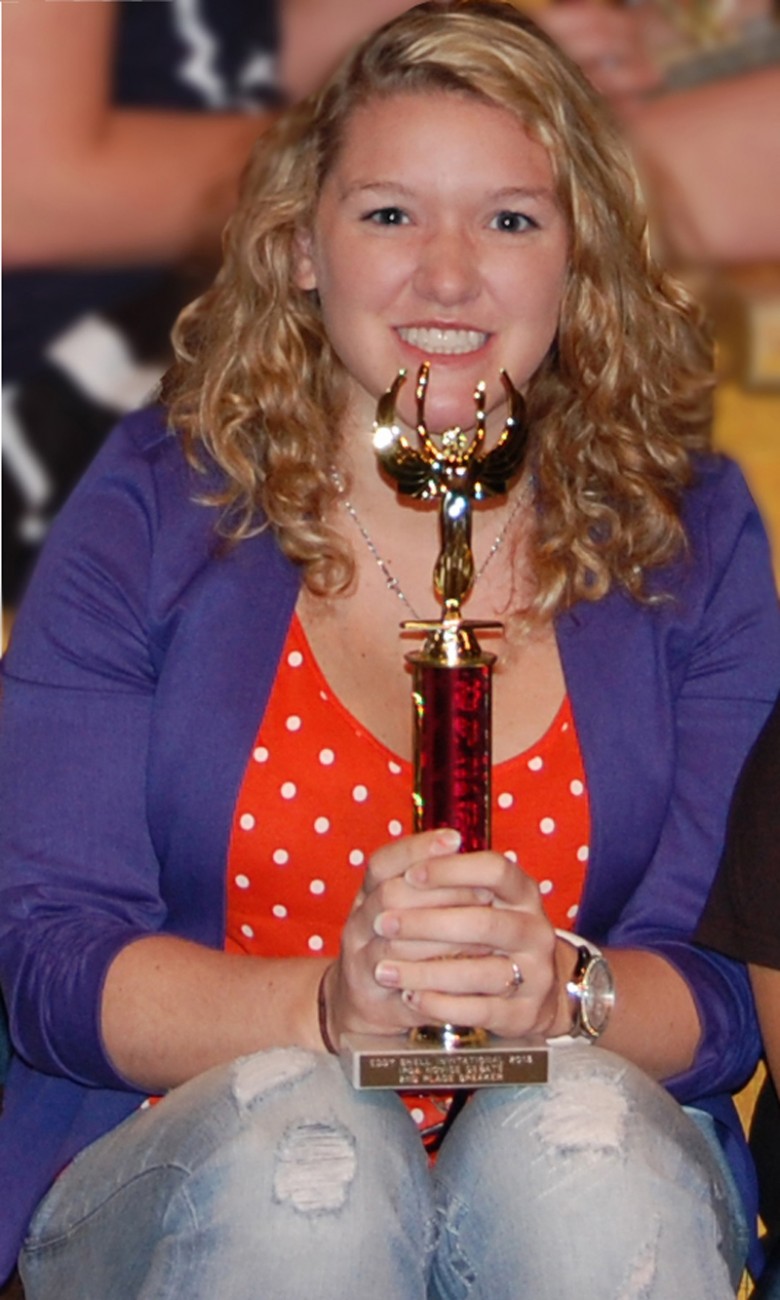 Taryn Clark's quick thinking and calmness under pressure was rewarded with a trophy at the Eddy Shell Invitational International Public Debate Association tournament in Bossier City, Louisiana. The College of the Mainland debater was awarded second-best novice speaker out of 74 debaters.

"I've never done this well. It was awesome. I was surprised," said Clark, who has been debating for a year. "I'm nervous before every debate, no matter what. You don't know what to expect."

Clark earned the second-highest number of speaker points, awarded by judges based on delivery, logic, support, organization and courtesy.

During each debate round, judges give two competitors five topics on any subject, from the sequester to quotes such as, "To be the man you must beat the man." Each eliminates a topic until only one is left. The debaters then have half an hour to research and organize their thoughts before competing.

"You put together an entire case in 30 minutes. It's crazy, but it's fun," said Clark.

The largest tournament the COM Debate Team has participated in since its inception a year ago, the competition hosted teams from 17 colleges and universities from Texas, Arkansas, Louisiana and Tennessee.

"It was her big tournament. There was some pretty tough competition," said Nakia Welch, debate team coach.

Seven members of the debate team attended the competition, and between debates they helped each other create notes for cases in their 30 minutes allotted to prepare.

"We coach each other. I was really proud of my teammates. We had three new people. They all did really well," said Clark.

Though a novice in argumentative debate, Clark is no stranger to speaking. During her freshman year at Texas City High School, Clark participated in individual events, which allows students to give dramatic speeches.

"I ended up falling in love," she said.

When she came to COM, she joined the debate team when it began and discovered that the team practiced international public debate, which is argumentative, not dramatic, debate.

Though it's dramatically different, she discovered she enjoyed it.

"I like having to think on my feet," she said.

She will graduate with an Associate of Science in May and plans to attend the University of Texas-San Antonio and pursue premedical studies.

"I'm hoping UTSA has a little bit of [debate] too."