High school students graduate with CNA license
Mar 6, 2013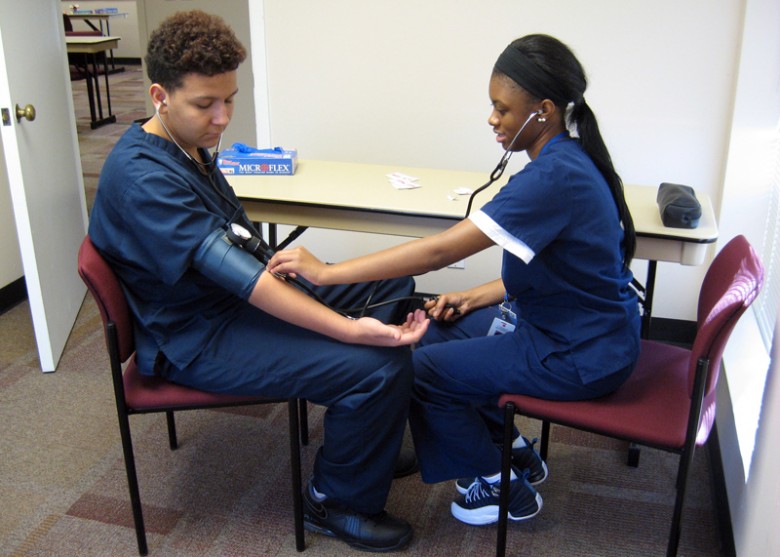 Taking each other's blood pressure and shaving balloons lathered with cream may seem like fun, but for high school students in this class at College of the Mainland, it is part of their assessment.

By the time that these Hitchcock and La Marque High School students finish this class, they will have taken the state test to become certified nursing assistants, giving these teens a head start on careers in the medical field.

"CNA is just the first step," said Sha-Nia Lawson, a La Marque junior in the program. Lawson has hoped for a career in nursing since helping care for her diabetic father as he was undergoing dialysis.

She and her classmates come to class three days a week, and if their grades qualify, they can receive high school as well as college credit for their work.

"We do hands-on things all the time. It's fun," said Quanicette Archibald, a La Marque High School senior. "Most kids don't have this opportunity."

Together she and her classmate Shemyria Simon role-played the proper way to lift a patient needing assistance from a bed to a wheelchair and practiced taking each other's temperature. Both students want to become registered nurses.

After practice in class, students will complete clinicals at local health care facilities.

"To me that's the best way to practice their skills," said Jacinta Urps, COM instructor and registered nurse.

Urps enjoys teaching the small classes with the students who are eager to learn.

"I can spend one-on-one time. It's more personal, and if it's more personal, you learn more," she said.

Joyce Singleton, a registered nurse and a La Marque career and technology teacher, and Debbie Duncan, a registered nurse who is the Hitchcock career and technology teacher, attend classes and clinicals with their students.

"This is their stepping stone to whatever they want to do. It's a big privilege and everyone looks up to them. This is very good for their self-esteem," said Duncan.

After becoming certified nurse assistants and certified in health care provider CPR, students have many options for job placement, and many begin working as soon as they are certified.

For other students, the class is a stepping-stone to other health care fields. Tommy Moody II, from La Marque High School, finished the program last year. Now, at 18, he is completing nursing prerequisites at COM and has his CNA license.

"[The test] wasn't hard. My teacher did a really good job," Moody said.

The class provided him with necessary experience with clinicals, which also gave him "the satisfaction of knowing I'm helping people who need it," he said.

With a head start on reaching his ultimate goal of becoming a registered nurse, Moody is just one of the students who have benefited from the program.

"These are good kids. It's a wonderful opportunity. They're so far ahead," said Urps.