TCPD conducts canine training at COM
Aug 17, 2012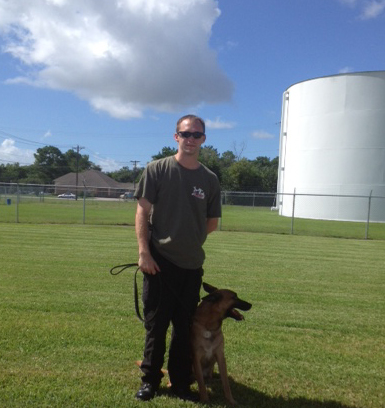 Drug and explosive detection training is all part of a day's work at the Texas City Police Department's K9 unit, which recently conducted a training exercise with drug-sniffing dogs at College of the Mainland.
Jason Clements and Tracye Johnson, COM graduates and Texas City Police Department officers, conducted the exercise. They chose to come to COM to expose the dogs to unfamiliar places and scents.

"Our facilities are always open to them," said B.J. Whitburn, Program Coordinator of the COM Law Enforcement Training Center.

Many graduates of COM's Basic Peace Officer Academy work for the Texas City Police Department, and some return to the academy to help during scenario trainings.

"Sometimes they play bad guys for us [at trainings]," said Whitburn.

The relationship between the Texas City Police Department and COM allows COM students to benefit from police officers' expertise and real-world experience.