COM students win Outstanding Musician Awards
May 8, 2012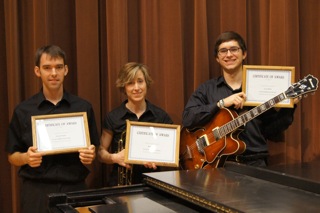 The soulful sound of saxophones filled the air at the Gulf Coast Intercollegiate Consortium Jazz Festival where nine College of the Mainland students won Outstanding Musician Awards.

Judges praised the Jazz Ensemble's "outstanding performance," and Ed Copeland on the tenor saxophone and David Loyd on the baritone saxophone received Outstanding Musician Awards. Judges also recognized the trumpet section's performance on "Backrow Politics" by Gordon Goodwin. Led by Dean Artall, the trumpet section includes Ted Williams, Ken Kirk, Ted Dinklage and Kim Chavez.
Members of the Jazz Combo also received Outstanding Musician Awards, including Kim Chavez on the trumpet, Wesley Moseley on the piano and Trent Minter on the guitar.

The GCIC comprises 16 community colleges in the greater Houston area and provides students with an opportunity to learn and perform in a professional setting.