Students
"I've made lifelong friendships. The kids who come here are as determined as me. They keep me accountable, help me through it. If I had to go back, I really wouldn't change the friends, the people, the classes I've had for anything."
– Abigail Dickson
Information for Students
CHS is a program designed to help students earn an associate degree at the same time as a high school diploma. CHS strives to help each student reach their goals by connecting their career aspirations to their educational experience.
CHS also aims to increase the number of students prepared for careers in science, technology, engineering and math by encouraging all students to enroll continuously in math and science until they graduate.
Activities are specially planned to help low-income and first-generation college students learn to be successful college students who graduate from high school prepared for university transfer or the workforce.
2020–2021 Student Handbook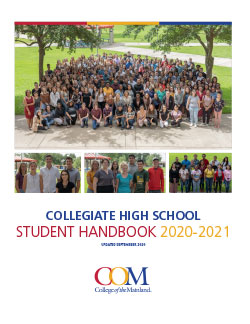 Download the new 2020-2021 Handbook
Prospective Students
Collegiate High School is an exciting place for responsible, mature teens who are ready for the academic challenge of college-level courses without the time-consuming, daily routines of traditional high school.
Each semester, CHS hosts a Parent Information Session to help parents and students better understand the Collegiate High School educational environment and the application process.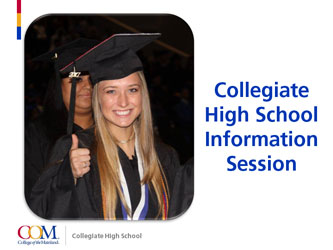 Download the presentation (PPTX). If you have trouble viewing the powerpoint presentation, you can download the the PDF version here.
Applying for CHS is a three-step process:
First, students must complete the CHS Application for Admission:
CHS Application for Admission.
This includes an application, several references, school attendance and discipline information, plus a 200-300 word essay explaining the qualities, experiences and goals that make the applicant a good candidate for CHS. Essays are reviewed based on their content and style. Students must also take the TSI placement test in the Testing Center or when offered by their home high school.
Second, students must complete the online application for two-year colleges at www.com.edu/apply. This is a separate application from the CHS application.
Lastly, the student must interview with the CHS staff. This interview is similar to interviewing for a job and students will be asked questions concerning the knowledge and experience that qualifies them for the program. It also gives students an opportunity to ask the staff questions that are specific to their needs.
Public School Students
Participating school districts include Clear Creek ISD, Dickinson ISD, Hitchcock ISD, Friendswood ISD, Odyssey Academy, Santa Fe ISD, Texas City ISD and Abundant Life Christian School. Students from these schools should visit with their counselors to learn their home campus requirements and procedures for the program. A student should learn in advance how their CHS grades will be transferred to their home campus and how CHS grades will affect their GPA and class ranking.
Private and Home School Students
Private and home school students are also invited to attend but must pay a private high school tuition in addition to the costs associated with the college courses.
Current Students
Home Campus Activities
CHS students may actively participate in extracurricular activities on their home campus. CHS students may serve on their student council, march in the band, play high school or select team sports, be cheerleaders, be members of the National Honor Society and more. Students must know the time commitments of these activities, and CHS advisors will do their best to work around these important parts of high school.
CHS Student Activities
Nu Psi is a service club created by CHS students in order to give back to their community as well as develop leadership skills. Students volunteer at many events on the college campus and in the community. Fundraisers provide educational and recreational field trips at the end of each semester to reward the students who work as hard for others as they do for their academics.
College of the Mainland Activities
All of COM's student organizations and facilities are open to CHS students, just as they are to all other COM students. Most Tuesdays and Thursdays, COM's Student Government Association hosts workshops and events that keep the fun in school. CHS always has students elected to COM's Student Government Association representing our students' needs. Visit the Student Clubs and Organizations webpage to read more about the many clubs and organizations available at COM.