Graduates
Virtual Commencement
The December 2020 graduation ceremony will be held virtually for our Spring, Summer and Fall 2020 graduates on Saturday, December 12 at 10 a.m.
Joining the Virtual Commencement
Join us for the 2020 Virtual Commencement Ceremony by tuning in on the COM YouTube Channel, the COM Facebook Page on Dec. 12 at 10 a.m. or on the COM website at www.com.edu/graduates/virtual-ceremony.
Many satellite and cable TV providers have the YouTube app as part of their system, as do many smart televisions. Simply open the YouTube app on your TV or cable box and search "College of the Mainland." Select the "COM Fighting Ducks" channel, and enjoy your accomplishment.
These videos will stay posted on YouTube and Facebook for you to watch live, share and rewatch in the future.
Graduation Program
Feel free to print or share this program with all of your family and friends.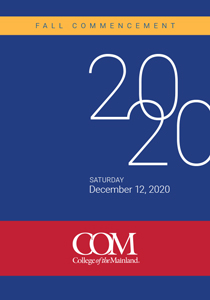 Eligible Students, It's Time to Apply for Graduation!
Graduation Application Instructions
---
Events
Deadline to submit Fall 2020 Graduation Application
Friday, October 30, 2020
Regalia
Graduation Regalia can now be picked up from the COM Bookstore to be kept as a keepsake.
Graduation Slide Customization
After applying for graduation via WebAdvisor students will receive an email from Marching Orders with directions on how to create a login and upload a picture. The deadline to upload pictures to Marching Orders is Nov. 29. Instructions to upload will be emailed to graduates.
---
Commencement Dates
Spring 2020 Graduation Postponed to Fall
In the interest of the safety of our students and employees, COM will postpone the Spring graduation ceremony to the Fall ceremony in December.
All students eligible to graduate must submit a graduation application whether or not they participate in the commencement ceremony. Complete the graduation application via WebAdvisor.
Graduation Information
Use the links below to find out more about this year's graduation.
---
Contact Information
Contact the Admissions and Records Office if you have further questions at 409-933-8264.