Center for Risk Management
The Center for Risk Management (formerly the Risk Management Institute) at College of the Mainland invites you and your staff to attend health and safety classes held at our facilities with a $25.00 registration fee. We have received generous support from the Texas Mutual Insurance Company to educate workers about occupational safety. These classes provide related materials to keep for future reference. The courses are excellent for organizations to update or include in their internal training.
Spring 2023 Class Schedule
Continuing Educational Units (CEUs) are awarded for each class. 0.8 CEU will be awarded for each class that is successfully completed in its entirety. The CEUs will appear on the student's transcript which can be requested at any time from the National Student Clearinghouse for all classes attended after 01/01/2022 or by contacting the Admissions Office at admissions@com.edu or by phone at 409-933-8264 for any classes attended before 01/01/2022.
Cancellation Policy: Please give at least 24 hours' notice if you are not able to attend class so we may register other students from the wait list. If you have any questions before the class, or need assistance on the day of the class, please send email to riskmanagement@com.edu. You can also call (409) 933-8495 and leave a message. Your call will be returned within 24 hours.
---
Who can benefit from these classes?
Safety trainers/personnel
Physical plant directors
Health personnel
Office personnel
All workers
Human resources personnel
Comments from evaluations:
"This was a much-needed course for safety professionals!"
"I wish more of my co-workers would take this course!"
"Well organized! Speaker was very knowledgeable of subject at hand!"
"These classes are a great resource for my business!"
"We will not miss a single offering!"
"Great hospitality! I'll be back!"
"Great course materials, and the refreshments were a nice addition. Thank you!"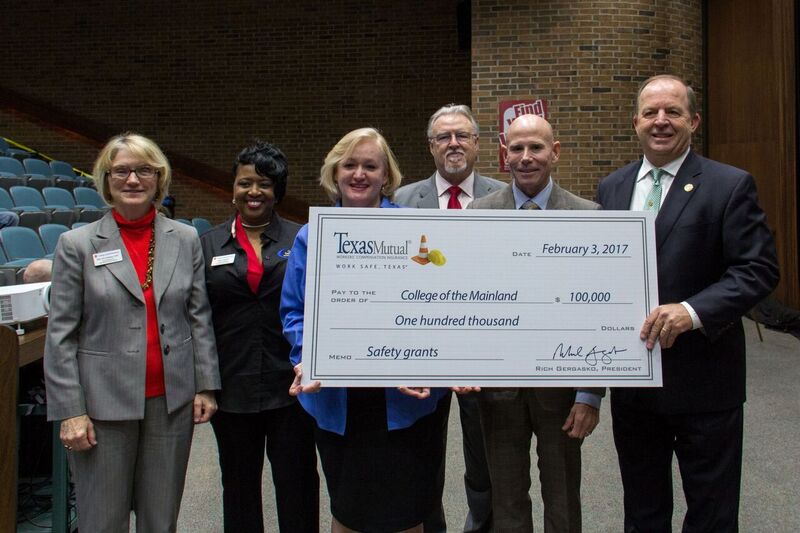 Continuing a 20-year partnership, Texas Mutual Insurance Company,
the state's leading worker's compensation insurance company, has given $100,000 to fund safety and health classes taught by experts at the Gulf Coast Safety Institute.
From left: Mary Amelang, Vice President for Institutional Advancement; SeAlice Hemphill, Program Assistant at the Gulf Coast Safety Institute; Cindy Lewis, Director of the Gulf Coast Safety Institute; Dr. James Templer, Vice President of Instruction; Woody Hill, Texas Mutual Insurance; and Wayne Faircloth, Texas House of Representatives.