Process
Strategic Planning Process
College of the Mainland's 2018-2023 strategic planning process is underway. The Board of Trustees have set the college's overarching goals:
Student Success
Employee Success
Facility Improvement
The new planning process began in March 2017 with data gathering from a number of sources: EMSI analyses (economic impact study and demand gap analysis of labor market information for new program development), administration of the Institutional Capacity Assessment Tool (ICAT), President's Cabinet review of COM's mission, vision, and values, and an ICAT World Café event and analysis of the results. We will continue to gather information from a broad base of constituents throughout the summer and early fall to inform our planning process and finalize the strategic plan. It is within this collaborative framework that our strategic plan will evolve.
World Café Results and Next Steps
During April results from the Institutional Capacity Assessment Tool (ICAT) survey were further discussed in a World Café event. Approximately 70 participants including faculty, staff, students and board members came together to discuss the results and engage in dialogue about our strengths, opportunities for improvement, and action items in the seven ICAT capacities:
Leadership & Vision
Data & Technology
Teaching & Learning
Strategy & Planning
Policies & Practices
Engagement & Communication
Equity
Early themes emerging from the ICAT:
College communications need to improve to both internal and external stakeholders
Faculty and staff want training on how to use data and technology
The college community desires stable and consistent senior leadership
ICAT Summary Results are provided with the findings of the World Café event.
ICAT Summary Results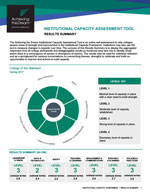 World Cafe event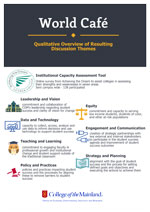 Next steps:
There will be additional opportunities to provide input into COM's vision for our future and our next strategic plan. Several opportunities are planned throughout the summer and fall months.
See the proposed timeline of town hall meetings, listening posts, and World Café events throughout the summer and early fall 2017. Information gathered will help set the strategic direction for the next five years – 2018-2023.
Questions we are seeking to explore through stakeholder engagement
Staff, Faculty and Students
Where does the college need to be in five years?
What does COM need to value most?
Where do we exceed expectations?
Where do we fall short of expectations?
Community and Business Partners
How do you perceive College of the Mainland today?
What can we do differently?
Where do we meet your expectations?
How can we improve services and workforce training?
How can we partner with you?
What does College of the Mainland need to look like?
Strategic Planning Timeline
Activity
April
May
June
July
Aug.
Sept.
Oct.
Nov.
Dec.
ICAT Survey
World Cafe
Mission, Vision, Values Review by Cabinet
Data Collection and report from World Cafe
K-12 Partner Voices - August Meeting
Chambers and Business Partners, Workforce
Solutions (TWC) Five Opportunities
Community Voices - Town Hall Meetings
Staff World Cafe
Faculty and Staff World Cafe
Students - Summer leadership SGA/
reg students/October - reg students
Data Analysis
Big Ideas - bringing it all together - defining future
state - finalizing vision, values, mission and strategic plan
Implementation
Strategic Plan creation will include an implementation process to move the College forward and achieve the goals by turning plans into actions. The plan will be communicated throughout the College and community. The plan's creation will address the what and why - the implementation will address the who, where, when and how.
Big ideas - bringing it all together- defining future state – finalizing vision, values, mission and strategic plan
Align budget to annual goals
Establish tracking and monitoring plan
Establish performance management and reward system
Roll out plan
Build all unit plans around college plan
Set up monthly strategy meetings with established reporting to monitor progress
Set up annual strategic review dates
As in previous years, each of the approximately 65 units within the College will develop an annual unit plan to support the strategic plan after reviewing data from the prior year.