Pharmacy Technician – Dual Credit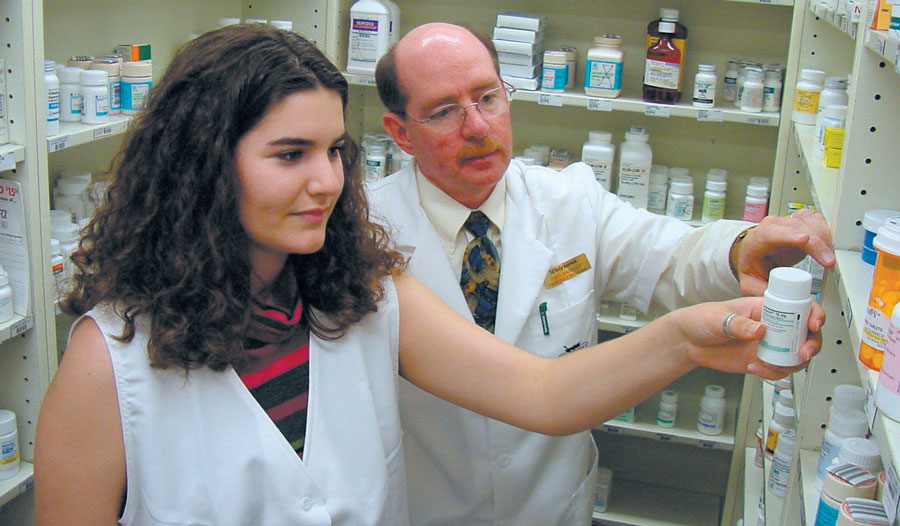 About the Career
Pharmacy technicians form an integral part of patient care. They measure, label, mix and dispense prescription medication while working under licensed pharmacists. With the patient's health and medication safety in mind, successful pharmacy technicians must be accurate, precise and detailed, while treating patients with compassion and empathy.
Median hourly pay: $14.62
Source: Bureau of Labor Statistics
Job Market and Salary
| Pharmacy Tech | Average Median Salary | Percentage of Growth by 2022 |
| --- | --- | --- |
| Gulf Coast Region | $33,970 | 9% |
| Texas | $32,580 | 9% |
| National | $30,410 | 9% |
About the Program
The Pharmacy Technician Program is nationally accredited through the American Society of Health System Pharmacists (ASHP). This program will prepare the student to pass the national Pharmacy Technician Certification Exam and to obtain the skills necessary to function as a successful pharmacy technician in a retail or hospital setting. Each student is given the opportunity to intern to gain on-site job experience in both a hospital and community pharmacy.
Contact Information
Please speak with the dual credit advisor or college connection advisor at your high school.
Pharmacy Technician Certificate
PHRA 1301 – Introduction to Pharmacy

This course in an overview of the qualifications, operational guidelines, and job duties of the pharmacy technician.

PHRA 1441 – Pharmacy Drug Therapy and Treatment

This course represents the study of therapeutic agents, their classifications, properties, actions, and effects on the human body and their role in the management of disease.

PHRA 1309 – Pharmaceutical Math I

This course covers pharmaceutical calculation problems encountered in the preparation and distribution of drugs.

PHRA 1449 – Institutional Pharmacy

This course covers the fundamentals of the diverse roles and practice of pharmacy technicians in an institutional pharmacy setting. Topics will include in-depth coverage of hospital pharmacy organization, work flow and personnel, safety techniques, data entry, packaging and labeling operations, inpatient drug distribution systems including investigational drugs, continuous quality improvement and inventory control.

PHRA 1404 – Pharmacotherapy and Disease Process

This course is the study of disease states and the therapeutic properties of drugs used in pharmaceutical therapy.

PHRA 1347 – Pharmaceutical Math II

This course will cover advanced concepts of Pharmaceutical Math I

PHRA 1445 – Sterile Preparations

This course is a study of the process of compounding sterile preparations and aseptic technique within legal and regulatory guidelines specified by USP <797> standards.

PHRA 1243 – Certification Review

An overview of major topics covered on the National Pharmacy Technician Certification Exam.

PHRA 2360 – Clinical Pharmacy Technician Internship-Hospital and Community

This course consists of health-related work-based learning experience that enables the student to apply specialized occupational theory, skills, and concepts. Direct supervision is provided by the clinical professional.
Clinical sites: Walgreens and Mainland Hospital
TSI Assessment: Not needed for certificates.
Students must begin their program as a junior.
Updated immunization record must be turned in to participate in this program.
There is an additional application and interview process required to participate in this program.
Additional Cost:
Malpractice Insurance - $16
Internship – Technician Trainee registration - $98
Upgrade trainee registration to technician registration - $90
Certification Exam - $129 (this fee will be charged in addition to tuition when student registers for PHRA 1243).
Background check, drug screening, TB test and Flu shot must be completed during the Year 2 Fall semester to be eligible for Internship in Year 2 Spring semester.

Background check - $40
TB test & Flu shot - $50
10 panel drug screen - $50
Students concerned about successfully passing drug screening and background check should discuss with lead instructor during 1st semester of program.
---
Credential: Pharmacy Technician Certificate
COM Next Steps:
Associate of Applied Science – Pharmacy Technician