Medical Assistant – Dual Credit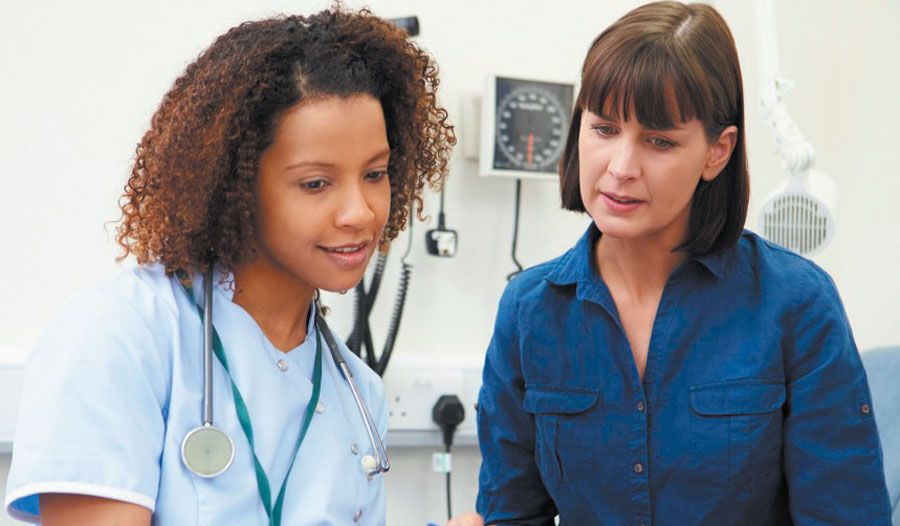 About the Career
Often the first friendly face seen by patients, medical assistants guide patients throughout a clinic or hospital visit. Taking vital signs, helping complete paperwork, recording patients' symptoms and administering medication are among their varied roles.
Median hourly pay: $14.71
Source: Bureau of Labor Statistics
Job Market and Salary
| Medical Assistant | Average Median Salary | Percentage of Growth by 2022 |
| --- | --- | --- |
| Houston Region | $33,126 | 3% |
| Texas | $28,550 | 3% |
| National | $29,960 | 3% |
About the Program
The Medical Assistant Program provides an entry-level education for individuals looking to get a start in the medical profession. Medical assistants are allied health professionals who assist the physicians in the medical setting. They perform routine administrative and clinical tasks in order to keep the physician's office running efficiently. This program is taught at the North County Learning Center in League City.
Contact Information
Please speak with the dual credit advisor or college connection advisor at your high school.
Medical Assistant Certificate
HITT 1305 – Medical Terminology I

Study of medical terms through word origin and structure. Introduction to abbreviations and symbols, surgical and diagnostic procedures, and medical specialties.

MDCA 1309 – Anatomy and Physiology for Medical Assistants

Emphasis on normal human anatomy and physiology of cells, tissues, organs, and systems with overview of common pathophysiology.

MDCA 1321 – Administrative Procedures

Medical office procedures including appointment scheduling, medical records creation and maintenance, phone communications, financial processes, coding, billing, collecting, third party reimbursement, credit arrangements and computer use in the medical office.

MDCA 1302 – Human Disease/Pathophysiology

A study of anatomy and physiology with emphasis on human pathophysiology, including etiology, prognosis, medical treatment, signs and symptoms of common diseases of all body systems.

MDCA 1443 – Medical Insurance

Emphasizes accurate ICD-9 and CPT-4 coding of office procedures for payment/reimbursement by patient or third party and prevention of insurance fraud. Additional topics may include managed care or medical economics.

MDCA 1417 – Procedures in a Clinical Setting

Emphasis on patient-centered assessment, examination, intervention, and treatment as directed by physician. Include vital sign, collection and documentation of patient information, asepsis, minor surgical procedures and other treatments as appropriate for the medical office.

MDCA 1352 – Medical Assistant Laboratory Procedures

Procedures depicted in the Current Clinical Laboratory Improvement Act (CLIA). Includes blood collection, specimen handling, and basic urinalysis, identification of normal ranges, quality assurance and quality control. May include electrocardiography.

Prerequisites: MDCA 1302 and MDCA 1309.

MDCA 1348 – Pharmacology and Administration of Medications

Instruction in concepts and application of pharmacological principles. Focuses on drug classification, principle and procedures of medication administration, mathematical systems and conversions, calculation of drug problems and medico-legal responsibilities of the medical assistant.

MDCA 1205 – Medical Law and Ethics

Instruction in principles, procedures, and regulation involving legal and ethical relationships among physicians, patients and medical assistants. Includes current ethical issues and risk management as they relate to the practice of medicine and fiduciary responsibilities.

MDCA 1460 – Clinical Medical Assistant

A health-related work-based learning experience that enables the student to apply specialized occupational theory, skills and concepts. Direct supervision is provided by the clinical professional.

Prerequisite: Approval by program director.

MDCA 1254 – Medical Assisting Credentialing Exam Review

A preparation for the Certified Medical Assisting Exam, including a review of all three components of the CMA exam. Presents an explanation of how the exam is scored and provides opportunities to take practice exams.

Prerequisites: MDCA 1309, MDCA 1302, HITT 1305, SPCH 1318, MDCA 1443, MDCA 1417, MDCA 1352 and MDCA 1348.
Schedule
Semester
Course
Credit Hours
Contact Hours
Days
Times
Tuition
(In/Out District)
Year 1 – Fall
MDCA 1309
MDCA 1321 HY
3 / 96
3 / 96
Monday, Wednesday, Friday
Tuesday, Thursday
1:30 – 3:30 p.m.
1:30 – 3:30 p.m.
$225 / $275
Year 1 – Spring
MDCA 1302
MDCA 1443 HY
3 / 96
4 / 112
Monday, Wednesday, Friday
Tuesday, Thursday
1:30 – 3:30 p.m.
1:30 – 3:30 p.m.
$225 / $275
Year 2 – Fall
MDCA 1417 HY
MDCA 1352 HY
4 / 128
3 / 96
Monday, Wednesday, Friday
Tuesday, Thursday
1:30 – 3:30 p.m.
1:30 – 3:30 p.m.
$250 / $300
Year 2 – Spring
MDCA 1348
MDCA 1205 HY
3 / 96
2 / 80
Monday, Wednesday, Friday
Tuesday, Thursday
1:30 – 3:30 p.m.
1:30 – 3:30 p.m.
$225 / $275
Year 2 – Summer
6 weeks
4 weeks
MDCA 1460 HY
MDCA 1254 HY
4 / 352
2 / 80
Monday – Friday
Monday – Thursday
8 a.m. – 2 p.m.
9 a.m. – noon
Students will be required to take HITT 1305 before program or during first semester. Students will be required to take MDCA 1254 and MDCA 1460 summer after graduation to complete program.
Courses ending in HY will be taught hybrid (face to face and hours online instruction). Hybrid courses have an additional $25 fee per course (fee included in tuition cost listed above).
TSI Assessment: Not needed for certificates. Students must begin the Medical Assistant Program as a junior.
Updated immunization record and physical must be turned in to participate in this program.
Additional Cost:
Malpractice Insurance - $16
Certification Exam - $125 (this fee will be charged in addition to tuition when student registers for MDCA 1460).
Background check, TB test and Flu shot must be completed before Externship the summer of 2nd year.

Background check - $40
TB test & Flu shot - $50
Blood pressure cuff and stethoscope - $50
Scrubs are required, estimated cost is $20 each for top and bottom.
Credential:
Medical Assistant Certificate - American Association of Medical Assistance (AAMA) - Certified Medical Assistant I upon passing the AAMA exam
COM Next Steps – Stackable Credentials:
Vocational Nursing Program (LVN)
Associate of Applied Science – Nursing (RN)