Library Computer Lab
The Library Lab, located on the main floor of the Library, is open to COM students, faculty, staff and community.
Computers in the lab and classroom provide access to the Internet, Library catalog and databases with hundreds of thousands of articles, thousands of eBooks and the extensive COM Library website designed to help users find the information they need.
Patrons wishing to use a computer in the Library Computer Lab should sign-in at the lab desk before using a computer. Please be advised that minors under the age of 16 are not allowed to be in the Library Computer Lab unless they are an enrolled student at COM. COM students with children should use Innovations Lab (TVB 1324).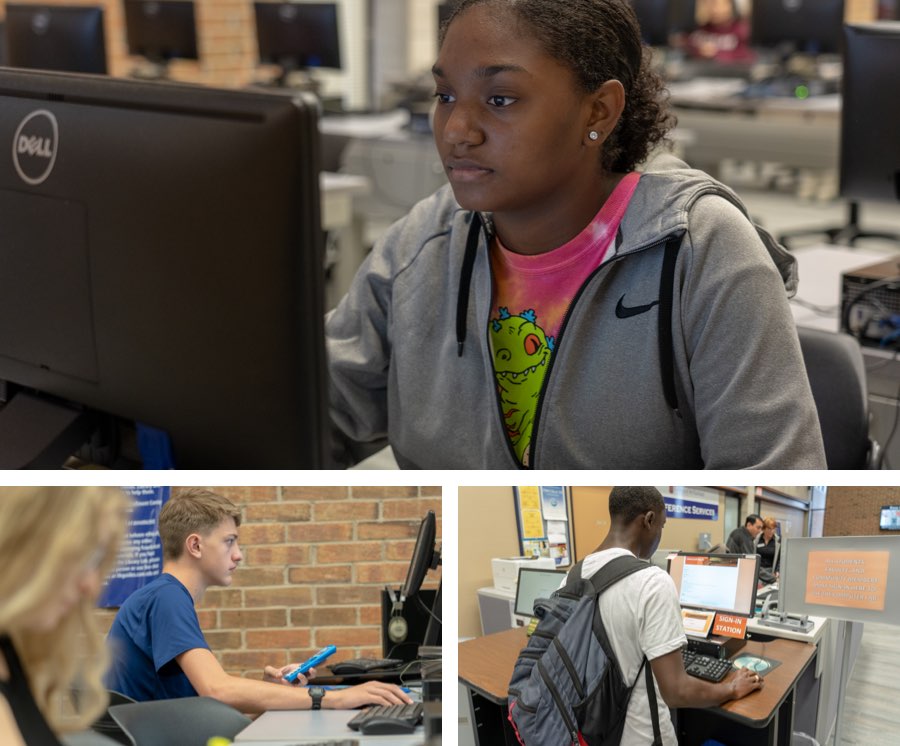 Library Lab Hours
| Day | Hours |
| --- | --- |
| Monday | 7:30 a.m. – 8 p.m. |
| Tuesday | 7:30 a.m. – 8 p.m. |
| Wednesday | 7:30 a.m. – 8 p.m. |
| Thursday | 7:30 a.m. – 8 p.m. |
| Friday | 7:30 a.m. – 5 p.m. |
| Saturday | 9 a.m. – 1 p.m. |
| Sunday | CLOSED |
Printing
Current COM students can print school-related black-and-white material for free.
There is a charge for all color print jobs and for print jobs not related to schoolwork:
Color print jobs are 10 cents per copy.
B/W print jobs are 5 cents per copy.
Hardware
The Library Computer Lab has one Apple PC, 51 Windows PCs, one Cannon printer, a sheet feed scanner, and a KIC document scanner.
Computer Programs/Software
All Library Computer Lab computers have the Microsoft Office suite of applications (Word, PowerPoint, Excel, Publisher, etc.). All Library Computer Lab computers have Mozilla Firefox and Google Chrome installed for access to the Internet and Blackboard.