Innovations Lab
The Innovations Lab, located in Room T-1324 of the Technical-Vocational Building, has been established to provide all College of the Mainland students the opportunity to enhance their learning through the use of computers.
The Lab is staffed with personnel ready to assist users with questions and assignments. Students must sign-in at the front desk computers in order to be acknowledge as a computer lab user.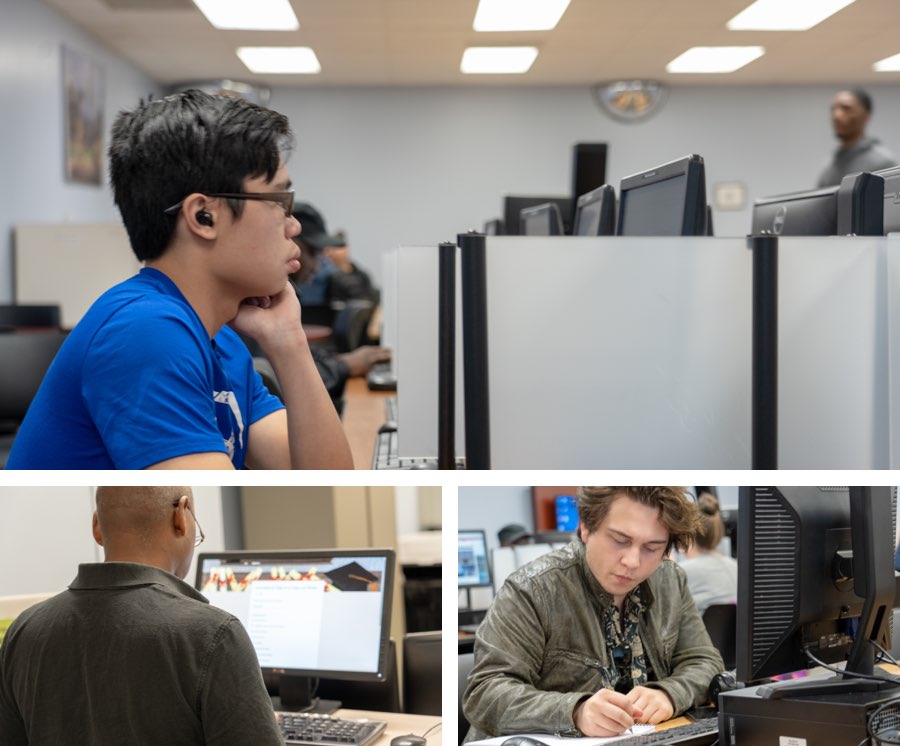 Please bring a flash drive/memory stick to save assignments because the computers are protected with DeepFreeze.
Innovations Lab Hours:
| Day | Hours |
| --- | --- |
| Monday | 7 a.m. – 4 p.m. |
| Tuesday | 7 a.m. – 4 p.m. |
| Wednesday | 7 a.m. – 4 p.m. |
| Thursday | 7 a.m. – 4 p.m. |
| Friday | 8 a.m. - noon |
| Saturday | CLOSED |
| Sunday | CLOSED |
Computer Assisted Learning (CAI)
Computer programs' benefits include allowing students to receive continuous and immediate feedback and allowing them to control the rate of learning.
Internet Access
Computers and Internet access are available for students' various uses: class assignments, research, Blackboard, Web Advisor, COM Portal, social media and more.
Hardware
The lab has 69 PCs with Windows 10, and Microsoft Office 365. Two Collaboration tables, one PC scanner, a laser printers and a Canon copier, two standing stations, one with a double monitor, Topaz Freedom Scientific station to enlarge printing on the screen, and a touch screen monitor are available. In order to conserve resources, printing is monitored.
Computer Programs/Software
A wide variety of computer programs are available, including word processing, spreadsheets, graphics and numerous others that support course work. Microsoft Edge, Google Chrome and Mozilla Firefox (used for Blackboard) are available for access to the Internet.