COM Theatre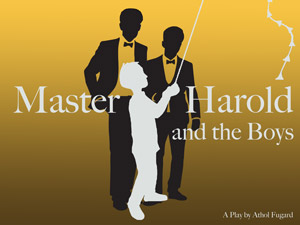 In-Person and Streaming
Master Harold and the Boys
May 20 – June 6, 2021
by Athol Fugard
A searing coming-of-age story during the apartheid era of South Africa, considered by many to be Fugard's masterpiece. A white teen who has grown up in the affectionate company of the two black waiters who work in his mother's tea room in Port Elizabeth learns that his viciously racist, alcoholic father is on his way home from the hospital. An ensuing rage unwittingly triggers his inevitable passage into the culture of hatred fostered by apartheid.
At this time all reservations are going through the Box Office due to social distancing/limited seating and not being sold online.
---
2020-2021 Season
The COM Theatre announces the upcoming 2019-2020 season:
"The Voice of the Prairie" by John Olive (Online Streaming Only)
"Rosencrantz and Guildenstern are Dead" by Tom Stoppard
"Pump Boys and Dinettes" Book, Lyrics, and Music by John Foley, Mark Hardwick, Debra Monk, Cass Morgan, John Schimmel, and Jim Wann
"Taking Leave" by Nagle Jackson
"Master Harold and the Boys" by Athol Fugard
"Urinetown" Music by Mark Hollmann, Lyrics by Mark Hollmann and Greg Kotis, Book by Greg Kotis
---
Theatre Box Office
Call the Box Office at 409-933-8345 or 1-888-258-8859, ext. 8345.
Since 1972, COM Community Theatre has presented over 228 productions including children's theatre, concerts and workshops with attendance of more than a quarter of a million people. The theatre has been recognized as one of America's leading community theatres, setting high production standards and developing one of this country's most innovative programs.
Beyond education, the College of the Mainland Theatre bears a three-fold commitment: to provide quality theatrical experiences for residents of the area, to offer a forum for local and regional talent by holding open auditions and to extend the reputation of College of the Mainland.