COM Theatre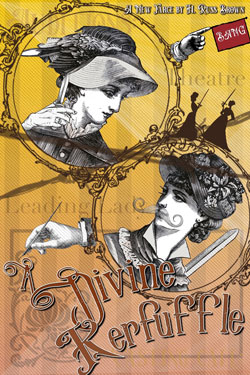 A Divine Kerfuffle
Nov. 4 – 21, 2021
by H. Russ Brown
The year is 1895 and Sarah Bernhardt is the greatest actress to ever grace the Victorian stage – just ask her! The "Divine Sarah" fears, however, her once bright star may be fading with all the attention suddenly being lavished on a talented, younger rival. When she stumbles across an incredible new script written by a naïve, but up-and-coming playwright, though, Sarah is convinced her path to theatrical immortality is assured… until her rival also gets her hands on a copy. Throw in a fuss-budget theatre manager, a stern Teutonic maid, a nimble-footed usher, plus a hilarious jumble of confusions and complications – and the stage is set for the ultimate showdown as the two dueling divas cross wits and blades in this world-premiere farce!
---
2021-2022 Season
The COM Theatre announces the upcoming 2021-2022 season:
"Sylvia" by A. R. Gurney SHOW CANCELLED
"A Divine Kerfuffle" by H. Russ Brown
"Godspell" by Stephen Schwartz and John-Michael Tebelak
"Let the Right One In" In by Jack Thorne
"Beyond Therapy" by Christopher Durang
"The SpongeBob Musical" by Kyle Jarrow and Tina Landau
2021-2022 Season Brochure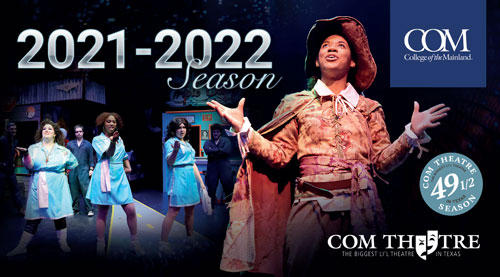 Download the 2021-2022 COM Theatre Season Brochure
---
Theatre Box Office
Call the Box Office at 409-933-8345 or 1-888-258-8859, ext. 8345.
Since 1972, COM Community Theatre has presented over 228 productions including children's theatre, concerts and workshops with attendance of more than a quarter of a million people. The theatre has been recognized as one of America's leading community theatres, setting high production standards and developing one of this country's most innovative programs.
Beyond education, the College of the Mainland Theatre bears a three-fold commitment: to provide quality theatrical experiences for residents of the area, to offer a forum for local and regional talent by holding open auditions and to extend the reputation of College of the Mainland.