COM Theatre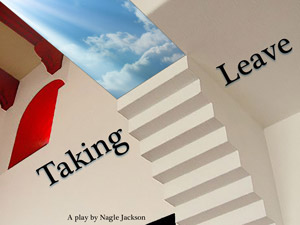 In-Person and Streaming
Taking Leave
Apr. 8 – Apr. 25, 2021
by Nagle Jackson
In the middle of the night, Eliot Pryne, professor of English Literature—specialty Shakespeare—is packing what he thinks is a suitcase and leaving what he thinks is a hotel. In the early stages of Alzheimer's disease, he is "taking leave" of the real world and imagining a new one, but the transition is painful. His alter-ego, seen only by the audience, charts this final voyage speaking as Eliot once did when he was the leading authority on Shakespeare's King Lear. The visitation of Eliot's three daughters, Alma, Liz and Cordelia, forms the central event of this oddly comic, yet fully sympathetic play that will have audiences laughing, weeping, and cheering.
---
2020-2021 Season
The COM Theatre announces the upcoming 2019-2020 season:
"The Voice of the Prairie" by John Olive (Online Streaming Only)
"Rosencrantz and Guildenstern are Dead" by Tom Stoppard
"Pump Boys and Dinettes" Book, Lyrics, and Music by John Foley, Mark Hardwick, Debra Monk, Cass Morgan, John Schimmel, and Jim Wann
"Taking Leave" by Nagle Jackson
"Master Harold and the Boys" by Athol Fugard
"Urinetown" Music by Mark Hollmann, Lyrics by Mark Hollmann and Greg Kotis, Book by Greg Kotis
---
Theatre Box Office
Call the Box Office at 409-933-8345 or 1-888-258-8859, ext. 8345.
Since 1972, COM Community Theatre has presented over 228 productions including children's theatre, concerts and workshops with attendance of more than a quarter of a million people. The theatre has been recognized as one of America's leading community theatres, setting high production standards and developing one of this country's most innovative programs.
Beyond education, the College of the Mainland Theatre bears a three-fold commitment: to provide quality theatrical experiences for residents of the area, to offer a forum for local and regional talent by holding open auditions and to extend the reputation of College of the Mainland.