COM Theatre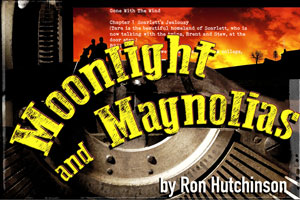 Moonlight and Magnolias
Sept. 5 – Sept. 22, 2019
by Ron Hutchinson
Legendary Hollywood producer David O. Selznick has a problem. He has just fired the director of Gone with the Wind and the script is on its umpteenth version. He desperately needs a new director and writer—immediately. However, the writer he wants, Ben Hecht, has never read the novel. Selznick also calls in director Victor Fleming, pulling him from finishing The Wizard of Oz to be the new director of Gone with the Wind. Selznick locks the three of them in his office for five days, with bananas and peanuts as their only food, to pull together a new script. Selznick and Fleming act out all the characters in the novel while Hecht types but, soon, fatigue, hunger, and sarcasm prevail. Tempers flare and hilarity ensues! A fun, farcical look at the behind-the-scene birth of one of the most beloved films of all time.
---
2019-2020 Season
The COM Theatre announces the upcoming 2019-2020 season:
"Moonlight and Magnolias" by Ron Hutchinson
"Peter and the Starcatcher" Book by Rick Elice / Music by Wayne Barker
"The Tin Woman" by Sean Grennan
"The Voice of the Prairie" by John Olive
"God of Carnage" by Yasmina Reza
"Little Shop of Horrors" Book and Lyrics by Howard Ashman / Music by Alan Menken
2019-2020 Season Brochure
View/Download the 2019-2020 Season Brochure (PDF)
---
Theatre Box Office
Call the Box Office at 409-933-8345 or 1-888-258-8859, ext. 8345.
Since 1972, COM Community Theatre has presented over 228 productions including children's theatre, concerts and workshops with attendance of more than a quarter of a million people. The theatre has been recognized as one of America's leading community theatres, setting high production standards and developing one of this country's most innovative programs.
Beyond education, the College of the Mainland Theatre bears a three-fold commitment: to provide quality theatrical experiences for residents of the area, to offer a forum for local and regional talent by holding open auditions and to extend the reputation of College of the Mainland.