Community Theatre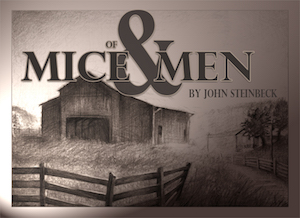 Of Mice and Men
April 5 – April 22, 2018
Tickets go on sale: Feb. 13, 2018
by John Steinbeck / Winner of the 1938 New York Drama Critics' Circle Award
In Steinbeck's classic American tragedy, two drifting dreamers, George and his friend Lennie, land at a ranch to work and save for their own place. Lennie is a man-child, a little boy in the body of a dangerously powerful man, and George is his sole protector. His promise to allow Lennie to "tend to the rabbits" on their future land keeps Lennie calm, amidst distractions, as he needs constant reassurance. One reckless moment alters their fate, though, and George is faced with a disturbing moral question that will change their partnership forever.
2017-2018 Season
The COM Community Theatre announces the upcoming 2017-2018 season:
"Talley's Folly" by Lanford Wilson
"Eurydice" by Sarah Ruhl
"Lucky Stiff" book and lyrics by Lynn Ahrens, music by Stephen Flaherty
"Of Mice and Men" by John Steinbeck
"God's Man in Texas" by David Rambo
"Cry-Baby" book by Thomas Meehan & Mark O'Donnell, music and lyrics by Adam Schlesinger & David Javerbaum
View the 2017-2018 Season Brochure
View the 2017-2018 Season Brochure.
---
Theatre Box Office
Call the Box Office at 409-933-8345 or 1-888-258-8859, ext. 8345.
Since 1972, COM Community Theatre has presented over 228 productions including children's theatre, concerts and workshops with attendance of more than a quarter of a million people. The theatre has been recognized as one of America's leading community theatres, setting high production standards and developing one of this country's most innovative programs.
Beyond education, the College of the Mainland Theatre bears a three-fold commitment: to provide quality theatrical experiences for residents of the area, to offer a forum for local and regional talent by holding open auditions and to extend the reputation of College of the Mainland.
---