Community Theatre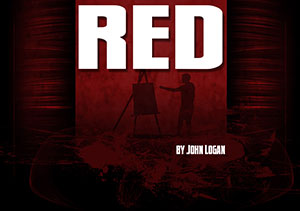 RED
May 18 – June 4, 2017
by John Logan / Winner of six Tony Awards and three Drama Desk Awards!
"What do you see?" Famed abstract expressionist painter Mark Rothko asks his young assistant, Ken, the loaded question. What's art? And who gets to decide anyway? It's 1958, and has just landed the biggest commission in the history of modern art, a series of murals for New York's famed Four Seasons Restaurant. In the two fascinating years that follow, Rothko works feverishly with Ken in his studio on the Bowery. But when Ken gains the confidence to challenge him, Rothko faces the agonizing possibility that his crowning achievement could also become his undoing. Raw and provocative, RED is a searing portrait of an artist's ambition and vulnerability as he tries to create a definitive work for an extraordinary setting.
---
Front Row Newsletter – The Drowsy Chaperone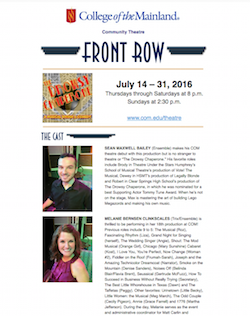 ---
Theatre Box Office
Call the Box Office at 409-933-8345 or 1-888-258-8859, ext. 8345.
Since 1972, COM Community Theatre has presented over 228 productions including children's theatre, concerts and workshops with attendance of more than a quarter of a million people. The theatre has been recognized as one of America's leading community theatres, setting high production standards and developing one of this country's most innovative programs.
Beyond education, the College of the Mainland Theatre bears a three-fold commitment: to provide quality theatrical experiences for residents of the area, to offer a forum for local and regional talent by holding open auditions and to extend the reputation of College of the Mainland.
---
Shows Remaining on the 2015-2016 Season
"The Drowsy Chaperone" Music & Lyrics by Lisa Lambert & Greg Morrison Book by Bob Martin & Don McKellar
For a schedule and description of each production view the 2015-2016 Season Brochure.
---
2016-2017 Season
The COM Community Theatre announces the upcoming 2016-2017 season:
"Crimes of the Heart" by Beth Henley
"COM Wasn't Built in a Day" by H. Russ Brown
"Lost In Yonkers" by Neil Simon
"Moon Over Buffalo" by Ken Ludwig
"Red" by John Logan
"Song of Singapore" by Alan Katz, Erik Frandsen, Robert Hipkens, Michael Garin and Paula Lockheart