Community Theatre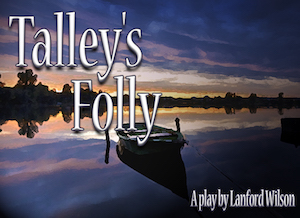 Talley's Folly
Sept. 14 - Oct. 1, 2017
Tickets on sale now
by Lanford Wilson / Winner 1980 Pulitzer Prize and NY Drama Critics' Circle Award!
The time: 1944. The place: a deserted boathouse on the Talley place in Lebanon, Missouri. Matt Friedman, an accountant from St. Louis, has arrived to plead his love to Sally Talley, the susceptible but uncertain daughter of the family. Bookish, erudite, totally honest and delightfully funny, Matt refuses to accept Sally's rebuffs and her fears that her family would never approve of their marriage. Charming and indomitable, he gradually overcomes her defenses, telling his innermost secrets and, in return, learning hers as well. Gradually he tries to awaken Sally to the possibilities of a life together as two "lame ducks" who may find a wholeness rare in human relationships.
---
2017-2018 Season
The COM Community Theatre announces the upcoming 2017-2018 season:
"Talley's Folly" by Lanford Wilson
"Eurydice" by Sarah Ruhl
"Lucky Stiff" book and lyrics by Lynn Ahrens, music by Stephen Flaherty
"Of Mice and Men" by John Steinbeck
"God's Man in Texas" by David Rambo
"Cry-Baby" book by Thomas Meehan & Mark O'Donnell, music and lyrics by Adam Schlesinger & David Javerbaum
View the 2017-2018 Season Brochure
View the 2017-2018 Season Brochure.
---
Theatre Box Office
Call the Box Office at 409-933-8345 or 1-888-258-8859, ext. 8345.
Since 1972, COM Community Theatre has presented over 228 productions including children's theatre, concerts and workshops with attendance of more than a quarter of a million people. The theatre has been recognized as one of America's leading community theatres, setting high production standards and developing one of this country's most innovative programs.
Beyond education, the College of the Mainland Theatre bears a three-fold commitment: to provide quality theatrical experiences for residents of the area, to offer a forum for local and regional talent by holding open auditions and to extend the reputation of College of the Mainland.
---