Campus Police
Campus Parking Enforcement Resumes
COM PD will resume parking permit enforcement, which was suspended on October 4, beginning October 23rd.
Employees, students, and Trustees who do not have a parking permits for their vehicles may obtain them in the Campus Police Department, Building 16. Parking permits are mandatory and free. Once you receive your permanent parking permit, please adhere it to the back of your vehicle window on the bottom left side.
If you need a temporary parking permit due to the Harvey flood or because your vehicle is out of commission, please make a request on the Temporary Parking Permit page of the Campus Police Department website. Once your request has been received, you will be emailed a temporary parking permit to print out so that you can place in on your dashboard. Temporary parking permits expire after 10 days.
To appeal a citation, visit the Campus Parking Citation Appeals page.
The COM Police Department provides security for College facilities and assistance to students, visitors, faculty and staff 24 hours a day, seven days a week. COM Police Department officers regularly patrol campus parking lots.
Daily Crime Log
---
Nonemergencies
Dial 8403 from any phone on campus.
About the Department
The police officers of the College of the Mainland function under the authority of the Texas Code of Criminal Procedures, Texas Penal Code and the Texas Education Code with jurisdiction in any county where COM owns or controls property or may operate.
While the College strives to protect vehicles and private property when on its property, the College assumes no responsibility for care or protection of any vehicle or its contents at any time it is operated or parked on the College campus.
The use or operation of a motor vehicle on COM property is subject to the laws and regulations of the state of Texas and the policies of College of the Mainland.
Department Roster
The COM Police Department is comprised of nine full-time officers and five part-time officers.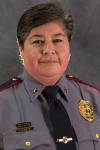 Sylvia Chapa
Chief of Police