COM Stages Medical Scenarios During Allied Health Day
May 12, 2023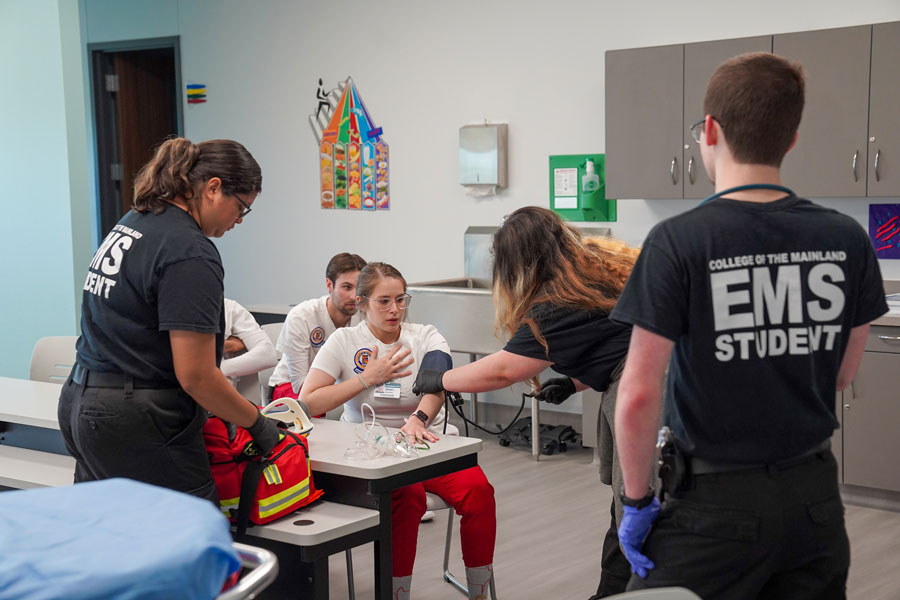 From sudden births to domestic violence and self-inflicted wounds, the emergency medical services (EMS) and nursing students were able to get a feel of the real-world scenarios that await in their field during College of the Mainland's (COM) Allied Health Day. On May 5, the morning began at the Public Service Careers (PSC) Building, with a car extraction demo presented by the Texas City Fire Department for the COM EMS and nursing students. From the PSC Building, the students moved to the STEAM Building for a day of mass casualty medical scenarios.
"It gives us the chance to simulate this before we're out in the real world, when these things happen," said Leigha Clouser, COM nursing student. "We get to use our skills and critical thinking in order to triage these patients and collaborate with other departments."
"We get to use a lot more equipment, so it helps us get actual hands-on practice," said Kelly Beckham, a first-year student in the COM EMS program. "I wish I could work with my classmates all the time."
Working alongside industry experts in a multitude of health care scenarios, Allied Health Day gives students a unique opportunity to think critically and problem-solve in an interactive learning environment as they prepare for the rigor of a career in the health care industry.
To learn more about all the programs offered at College of the Mainland, visit www.com.edu/academics/areas-of-study.html.
Click here to view more photos from the event.