Texas Workforce Commission Awards COM Funding for PTEC Equipment
Apr 28, 2022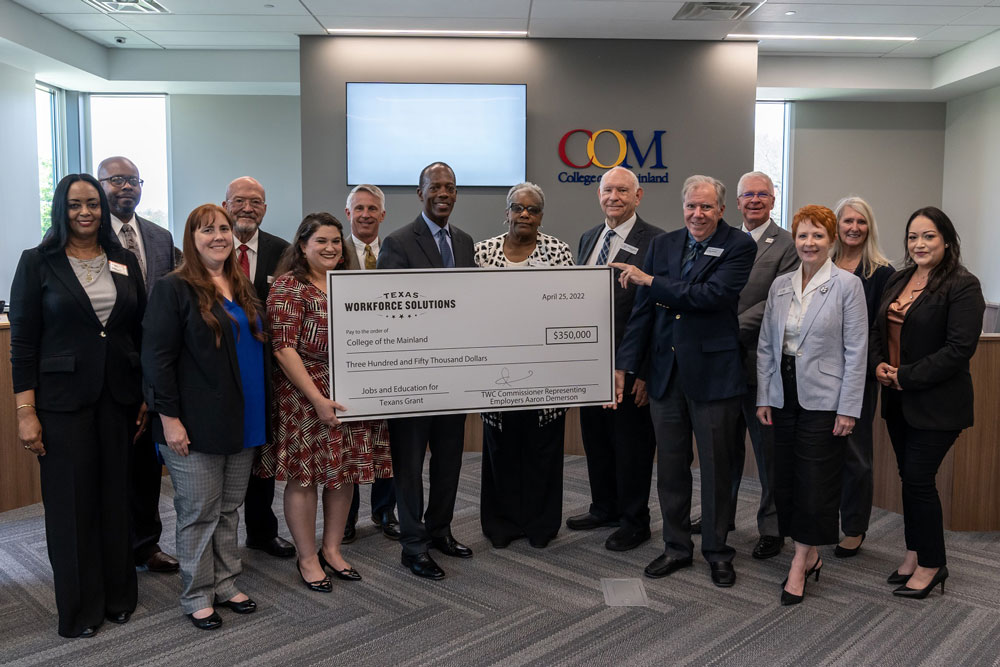 The Texas Workforce Commission (TWC) presented the College of the Mainland (COM) with a Jobs and Education for Texans (JET) grant during a check presentation at its recent board meeting on Monday, April 25. During the special presentation, TWC Commissioner Representing Employers, Aaron Demerson, joined COM officials to present a check to the College in the amount of $350,000.
"The Texas Workforce Commission is here to provide all Texans with an opportunity for economic prosperity," said Demerson. "At the end of the day, employers need access to a skilled labor force, and this JET grant presented to the College of the Mainland will target the needs of our Texas employers here in the state. When you bring together the worlds of workforce, economic development, and education, that leads to success."
Through a competitive selection process, the JET grant program allocates funding on a quarterly basis for educational institutions to defray the start-up costs associated with developing career and technical education programs. This grant will provide support for the new Glycol Separation Unit (GSU) incorporated in COM's new Industrial Careers Building. The GSU replicates the removal of water from natural gas, tasks that are primary educational goals for students in the Process Technology (PTEC) program.
With the growth of the petrochemical industry on a steady rise in the Gulf Coast region, the funding will help to ensure that students enrolled in the College's PTEC program are prepared to meet the high demand for skilled workers in the growing industry.
To learn more about the College of the Mainland Process Technology program, visit www.com.edu/academics/ptec/.