Del Papa Distributing Company donates $125,000 to College of the Mainland's Promise Scholarship
Apr 28, 2022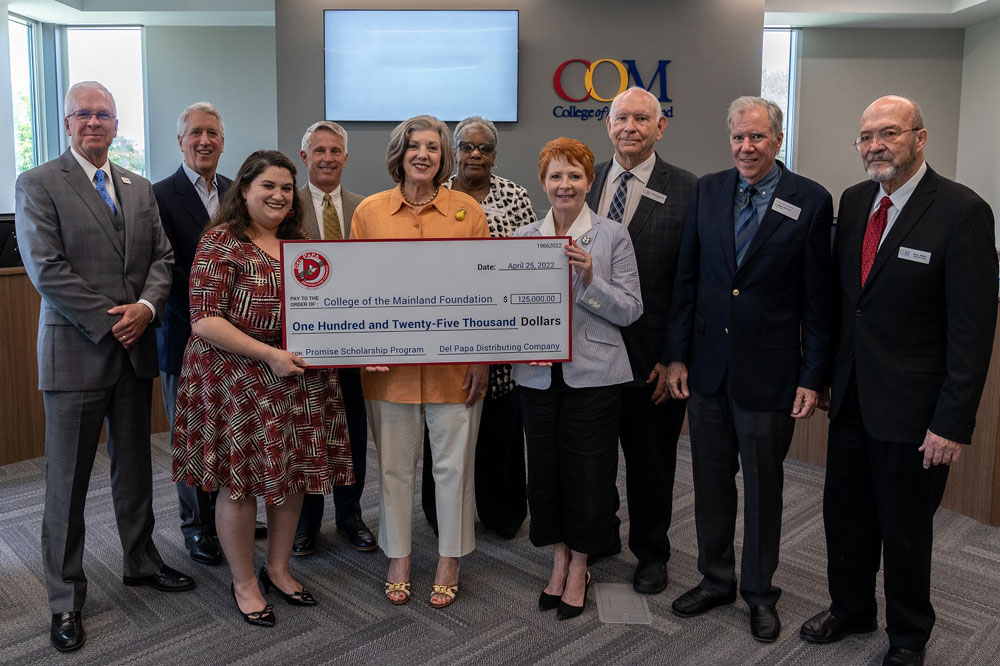 College of the Mainland (COM) is pleased to announce a $125,000 donation for Hitchcock, La Marque and Santa Fe students to participate in the Opening Doors Promise Scholarship program. Generously funded by the Del Papa Distributing Company, the $125,000 matching grant will be donated over two years and sponsor students in those three cities.
"Education of this community is our future," said Laura Del Papa Murray. "My family strongly believes in education and wants that opportunity to be available to everyone."
The matched funds will mean a total of $250,000 toward a permanent endowment for the Opening Doors Promise Scholarship. Because of this gift, qualifying Hitchcock, La Marque and Santa Fe students will be able to attend COM full time with all tuition and fees covered starting in fall 2022. (Students in Santa Fe are eligible to participate on a first-come, first-serve basis.)
"I believe that this will open up the door to young adults that didn't have an idea that they would be able to go to college," said Peter Williamson, Vice President of Corporate Relations and Communication for Del Papa Distributing. "We do believe as a company as does the Del Papa family that education opens the doors to change not only their lives but their children or their grandchildren's lives. It gives them a step up, and if we're going to be able to lift everybody up, education is the most important foundational piece to be able to do that."
The gift continues COM's ongoing effort to expand access to affordable, high-quality education throughout the college's neighboring communities. With funding from private donors, foundations, municipalities and other community partners, the program has now grown to provide free tuition and fees for students across the College's entire taxing district.
The Opening Doors Promise Scholarship provides a "last-dollar scholarship" for high school students by offering funding to fill the gap for the remaining tuition and fees after grants or scholarships have been applied. With the scholarship, students can earn an associate degree or complete a workforce training certificate program with all tuition and fees covered for up to two years.
Eligibility Requirements
Class of 2022 high school seniors (high school equivalency, public, private, home or charter schools) and graduating in the Class of 2022 are eligible for the scholarship. There is no income or high school GPA requirement.
The Opening Doors Promise Scholarship priority deadline is July 1, 2022. To apply, students should complete these two simple steps:
For more information about the Opening Doors Promise Scholarship, visit www.com.edu/promise.