The Dickinson Management District No. 1 makes donation for tuition-free college for Dickinson students
Apr 21, 2021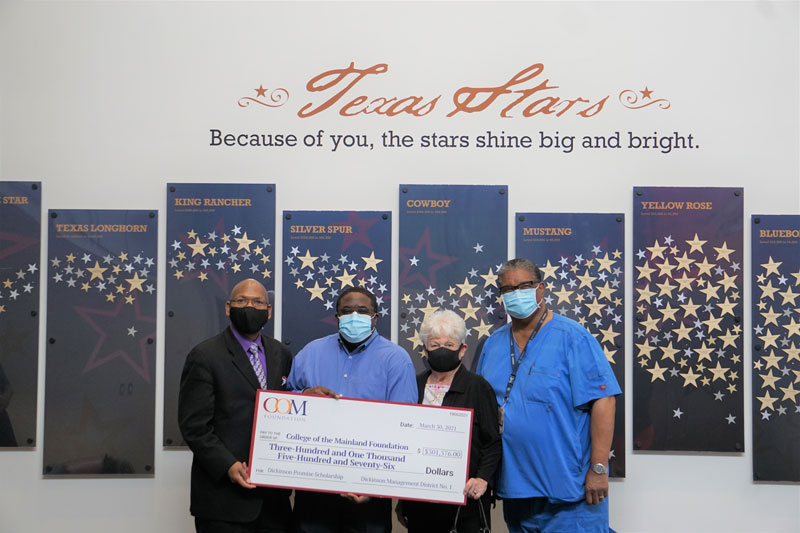 College of the Mainland (COM) is pleased to announce a $301,576 donation for Dickinson students to participate in the Dickinson Opening Doors Promise Scholarship program. Generously funded by the Dickinson Management District No. 1, this donation continues COM's ongoing effort to expand access to affordable, high-quality education throughout the college's neighboring communities. Through the scholarship, every qualifying Dickinson student will be able to attend COM full time with all tuition and fees covered starting in fall 2021.
"We want our students to come home and come back to us with good, high-paying jobs, and education means a lot to that effort," said Dickinson Management District No. 1 President, Mary Dunbaugh. "It's hope that our students will have an opportunity for a higher education, and they will bring that knowledge back to the community and help the community grow."
"The best thing that we can do as a management district is to try to enrich economic development to create a more qualified workforce," said Dickinson Management District No. 1 Vice President, Pastor Johnnie Simpson, Jr. "A more qualified workforce means higher income earners, more productive citizens and a better city overall."
This phase of the program will provide a "last-dollar scholarship" for Class of 2021 high school students residing in Dickinson by offering funding to fill the gap for the remaining tuition and fees after grants or scholarships have been applied. With the scholarship, students can earn an associate degree or complete a workforce training certificate program with no tuition or fees in fall 2021.
"We are forever grateful to donors like the Dickinson Management District No. 1 who support students in furthering their higher education goals," said COM President Dr. Warren Nichols. "As the Opening Doors Promise Scholarship program continues to grow, I am confident that this opportunity will greatly enrich the growth and prosperity of our community now and in the years to come."
Eligibility Requirements
Class of 2021 high school seniors residing in Dickinson (high school equivalency, public, private, home or charter schools) and graduating in the Class of 2021 are eligible for the scholarship. High school equivalency students must be between the ages of 16-18 and residing in Dickinson. There is no income or high school GPA requirement.
To become an Opening Doors Promise Scholar, students must complete two simple steps before July 1, 2021:
STEP 1: Apply for admission through applytexas.org and choose "College of the Mainland."
STEP 2: Submit the Free Application for Federal Student Aid (FAFSA) at fafsa.gov and list "College of the Mainland" or enter code 007096.
Since launching the program in March 2020, COM has welcomed 148 Opening Doors Promise Scholars to embark on their tuition-free higher education journey. With funding from private donors, foundations, municipalities and other community partners, Promise Scholars have received almost $260,000 in funding to date.
For more information about the Opening Doors Promise Scholarship, visit www.com.edu/promise or call (409) 933-8144.