Mary Ellen and Chuck Doyle donate $1 million to College of the Mainland
May 24, 2021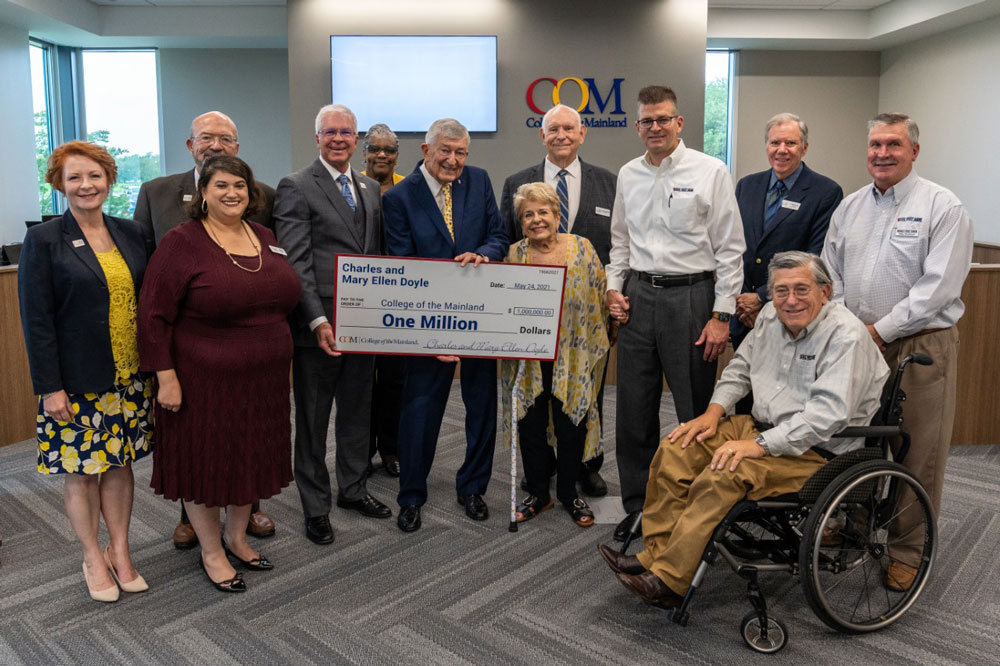 College of the Mainland (COM) is pleased to announce a donation by Mary Ellen and Charles T. "Chuck" Doyle in the amount of $1 million dollars. Longtime supporters of COM and the Texas City community, the generous gift serves as a testament to the couple's commitment to giving and will ensure that COM remains a prominent educational fixture for future generations through intellectual enrichment in the Mainland community.
"We are presenting to Dr. Nichols and the COM Foundation our largest support of education with a gift of $1 million," Doyle said. "This gift is to congratulate Dr. Nichols, the Board of Trustees, and all the students, faculty and staff at COM for the remarkable achievements you have accomplished here at COM. You have invested in our future and the future of our children and our communities, and the Doyle Family is delighted to stand with you as a partner in this effort."
Since settling in Texas City in 1960, the couple has devoted their lives' work to making their community a better place through a variety of civic, volunteer, business and philanthropic endeavors.
Chuck, who has served in a variety of leadership roles, including mayor of Texas City from 1990-2000, currently serves as chairman of the board of Texas First Bank as well as chairman of Texas Independent Bancshares Inc. A staunch supporter of education, Mary Ellen has worked diligently throughout the years to enrich the lives of young people through her work with Texas City Independent School District's educational foundation and such initiatives as the Mainland Youth at Risk project.
Through this gift and their decades of work, the couple hopes to inspire future generations of scholars to strive to become lifelong learners and leaders.
"On behalf of the Doyle Family, Mary Ellen and I present this gift of $1 million and congratulate you and your leadership on providing our communities with excellence in education," Doyle said.
For more information about giving at COM, visit com.edu/giving.