Music Series
Live Music at COM
From jazz to electric guitar, COM offers an ongoing series of musical concerts and performances to showcase students' talents.
Guitar Orchestra Spring Concerto
Directed by John Kiefer
Thursday, April 19, 2018 at 7:30 p.m.
Fine Arts Building F-117, Free and open to the public.
Surf music, Spanish dances, Irish jigs, music of Eddie Healy, hits from the 1960s, 1970s, and more.
8th Annual
Evening of Jazz
Texas City ISD and College of the Mainland with guest artist Larry Ham – pianist.
Saturday, April 21, 2018 at 6 p.m.
Texas City High School Auditorium
Texas City High School Show Choir directed by Rico Hamilton
COM Duck & Cover A Cappella directed by James Heffel
Blocker MS Jazz Ensemble directed by Ernest Bottlinger
La Marque Cougar Jazz Ensemble directed by Danial Quintana
Texas City High School Jazz Ensemble directed by Matthew Raines
College of the Mainland Jazz Ensemble directed by Sparky Koerner with special guest artist Larry Ham–pianist
Partial funding for this concert is made available by the Herb Alpert Foundation through the Jazz Education Network Grant Jazz2U.
COM Concert Band
Spring Concert
directed by Sparky Koerner
Monday, April 30, 2018 at 7:30 p.m.
Fine Arts Building, F-117
Selections include movie themes: Beauty and the Beast and Pirates of the Caribbean, music from the Romantic Period, including Sheherazade and Procession of the Nobles, and contemporary pieces Fanfare and Flourishes and Blue Mambo.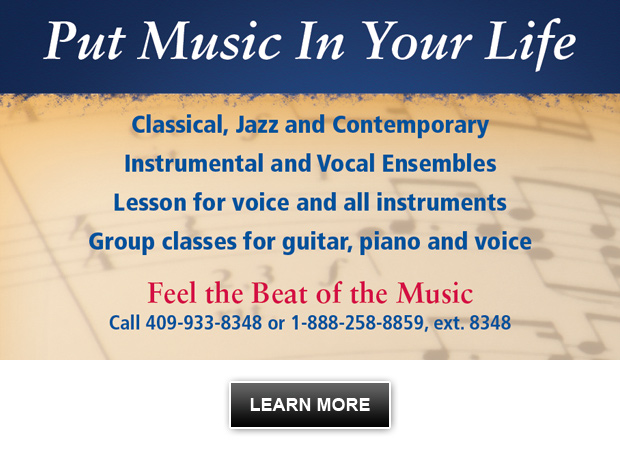 Latest Performance: Step Lightly COM Jazz Ensemble