Coronavirus (COVID-19) Information
Galveston County Health District
Moderna
COVID-19 Vaccine Outreach Clinic
Where:
College of the Mainland
Conference Center
1200 N. Amburn Rd.
Texas City, TX 77591
Time:
10 a.m. – 2 p.m.
Register Now
Register online here or by scanning the QR Code below.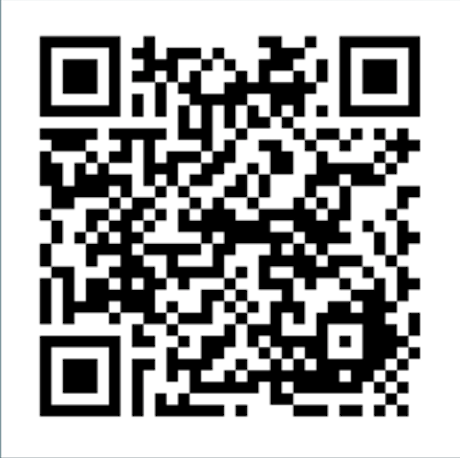 Frequently Asked Questions
Which type of vaccine will this be?

Moderna. This is a two-shot vaccine. Everyone who gets their vaccine on April 30 will come back on May 28th for their second shot.

Will this be a drive-thru vaccination site?

No, this will be inside the COM Conference Center.The closest parking will be in Lot C and Lot D.

Who can be vaccinated at this free outreach clinic?

Any adult who is at least 18 years old. We especially hope that students, employees, and their family members will register for vaccination. Community members are also welcome.

Do I have to be a COM Student or Employee? - No, anyone aged 18+ may register.
Do I have to be a citizen? - No, anyone aged 18+ may register. There will be screening questions related to health.
I am only 17, can I register for this vaccine? - Unfortunately, No. You may register for the Pfizer vaccine through UTMB or other providers.

What if I need help registering?

If you have issues with the online registration, you can call Galveston County Health District for assistance at 409-938-7221.

I already received all or part of my vaccine somewhere else. Should I register here as well?

No. This is for first vaccine doses for those who have not yet received any COVID-19 vaccines.

I have concerns about whether or not I should get the COVID-19 vaccine (or which vaccine I should get). What should I do?

You should discuss your concerns with your healthcare provider. If you have specific concerns related to past vaccine reactions, complete the registration form and answer the screening questions honestly. The health care professionals with Galveston County Health District will be able to provide information about reasons you might not want to get vaccinated at this time.

Is COM requiring me to get vaccinated for school or my job?

No. Based on the order from Governor Greg Abbott, COM cannot require you to be vaccinated to receive COM services.

I registered for the event on April 30, but I got an opportunity to get my vaccine earlier. What should I do?

We encourage you to get your vaccine at your earliest opportunity. Please call Galveston County Health District at 409-938-7221 to be removed from this list if you get vaccinated elsewhere.

No hablo bien el inglés. ¿Hay más información en español?

Hay más información en la página web de registro. Busque la opción en español en la parte superior de la página web.
College of the Mainland COVID-19 Update – March 3, 2021
College of the Mainland (COM) is aware of Governor Greg Abbott's recent executive order lifting statewide mandates related to COVID-19, effective Wednesday, March 10, 2021. At this time, all safety protocols currently in place, including the wearing of face coverings and social distancing, will remain in effect on COM campuses and facilities while we review the order and assess our options. Individuals are also reminded to follow our self-screening protocols when on campus. Additional communication will be shared should there be any changes to our protocols.
Self-Screen and Report
Employees, students, and contractors coming to campus must complete this self-screen for symptoms related to COVID-19 and acknowledge safety guidance. This should be done before every campus visit.
Click here to Self-Screen and Report
This link also allows you to submit a report and obtain additional guidance if you:
Tested positive for COVID-19 with or without symptoms
Think or know you had COVID-19 symptoms in the past that have now resolved
Had close contact (< 6' for 15+ minutes) with a known case of COVID-19 within the past 14 days.
Spring 2021 plan (Under Revision)
Download the COVID-19 Reopening Guide (Updated: 12-03-2020; Currently Under Revision)
College of the Mainland administration continues to monitor the COVID-19 situation and take the necessary actions to ensure that we provide a safe and successful learning experience for students during this challenging time. In light of the rising number of cases in the state, the college has made the decision to move all instruction possible to an online format for the Fall 2020 semester.
A limited number of skills-based, hands-on courses may require on-campus instruction for completion. In any circumstance where on-campus presence is needed, the college will practice all appropriate social distancing and sanitization measures. In addition, any person on campus will be required to wear a mask or face covering. As a reminder, individuals who are experiencing any signs or symptoms of illness, are asked to stay home as a measure to prevent the spread of the virus.
In the interest of the health and safety of students, faculty and staff, please note the following changes related to campus operations during the fall semester:
The library, tutoring center and computer labs will remain open to students with reduced staffing, limited hours and limited capacity.
The gymnasium and conference center will be closed until further notice.
Most testing center services will be available online. Only limited testing center services, such as those needed for the Police Academy and Fire Academy, will be offered in-person.
The December 2020 graduation ceremony will be held virtually for our Spring, Summer and Fall 2020 graduates. More graduation information will be forthcoming.
Fall classes begin August 24. Students who have questions regarding registration, can contact their academic advisor for assistance. For a full list of all advisors or instructions on registering online, visit www.com.edu/student-services/academic-advising. New students can find the steps to enrollment online at www.com.edu/admissions/apply.
---
College of the Mainland continues to closely monitor the global COVID-19 outbreak. We will continue to keep our community informed as developments occur.
COVID-19 Information
COVID-19 Awareness Training
This training is required of anyone coming onto campus.
---
Protect Yourself: COVID-19 Safety
A few simple steps that you take now can greatly reduce the risk of spreading germs, including the virus that causes COVID-19:
Wash your hands for 20 seconds multiple times a day.
Avoid close contact. Stay at least 6 feet apart (2 arms' lengths) from others.
Cover your mouth and nose with a face cover.
Cover coughs and sneezes.
Clean and disinfect frequently touched surfaces.
Monitor your health.
This guidance is summarized in this one page guide from CDC.
---
Links
Links to Official COVID-19 Guidance
Links to Surveillance Reporting
Additional Links to Official News Sources
---
COVID-19 FAQs
What is coronavirus disease 2019 (COVID-19)?

Coronavirus disease 2019 (COVID-19) is a respiratory illness that can spread from person to person. The virus that causes COVID-19 is a novel coronavirus that was first identified during an investigation into an outbreak in Wuhan, China.

Have there been cases of COVID-19 in the U.S.?

Yes. The first case of COVID-19 in the United States was reported on January 21, 2020. The current count of cases of COVID-19 in the United States is available on CDC's webpage available here. Additionally, Johns Hopkins CSSE is tracking the global spread.

What are the symptoms of COVID-19?

Patients with COVID-19 have had mild to severe respiratory illness with symptoms of

fever
cough
shortness of breath

How does COVID-19 spread?

The virus that causes COVID-19 probably emerged from an animal source, but now it seems to be spreading from person to person. It's important to note that person-to-person spread can happen on a continuum. Some diseases are highly contagious (like measles), while other diseases are less so. At this time, it's unclear how easily or sustainably the virus that causes COVID-19 is spreading between people. It is spread via respiratory droplets. Learn what is known about the spread of newly emerged coronaviruses on the CDC's transmission page.

Is there a vaccine?

There is currently no vaccine to protect against COVID-19. The best way to prevent infection is to avoid being exposed to the virus that causes COVID-19.

Is there a treatment?

There is no specific antiviral treatment for COVID-19. People with COVID-19 can seek medical care to help relieve symptoms.

What should I do if I'm sick?

CDC provide clear guidance on steps you can take to care for yourself and help protect others in your home and community. See If You Are Sick or Caring for Someone for details. In general you should:

Stay home except to get medical care
Separate yourself from other people
Monitor your symptoms
Call ahead before visiting your doctor

Where can I get tested for COVID-19? Will COM be providing testing?

COM will not be providing testing. Most healthcare providers can provide testing for COVID-19 at this time. Additionally, both local and state agencies are providing low or no cost testing to the public.

Galveston County Health District maintains information about testing

Texas Department of State Health Services maintains this map and list of testing locations.