Machinist Manual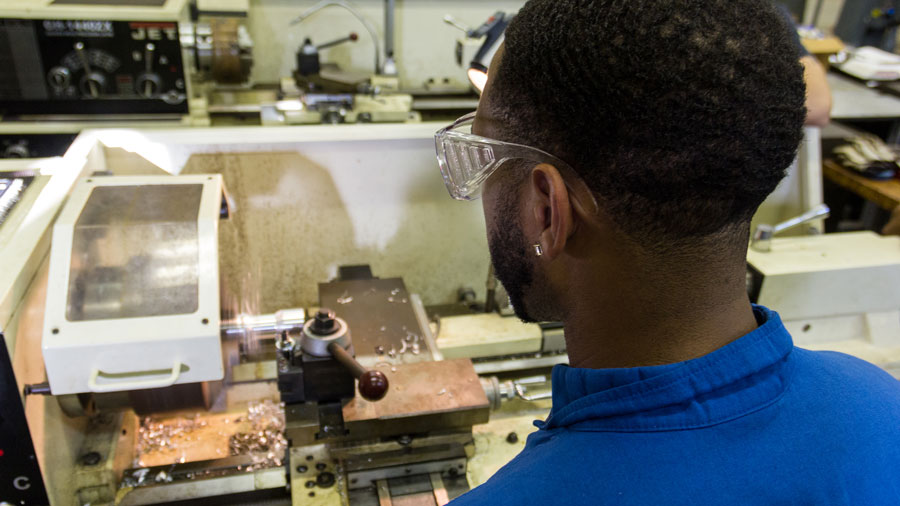 About the Career
A Manual Machinist (also referred to as production machinist, set-up machinist) is a tradesperson who set up and operate a variety of machines such as lathes, mills and grinders to fabricate, modify, or repair mechanical instruments and equipment.
Career Outlook
Gulf Coast Industries are investing billions of dollars in capital improvements throughout the Texas Gulf Coast, home to over 200 chemical plants the largest petrochemical complex in the world. COM provides training that support these industry demands.
The need for qualified Manual Machinist in the Gulf Coast Region is anticipated to grow by 37.7 percent by 2022. The median hourly wage is $19.88 with entry level positions below that rate (Source: Workforce Solutions, 2016).
Completers of the Manual Machinist Program may find entry-level careers in:
Petrochemical
Oil & Gas
Manufacturing
Production
Machine & Fabrication
Aerospace
About the COM Program
The Manual Machinist Program prepares students for Entry-Level careers in a high-skill, high-growth occupation. Instructors bring field experience into the classroom to provide technical and hands-on training. Classes meet two nights per week to accommodate work schedules.
Students interested in the Manual Machinist Program must complete the Mechanical Maintenance Technician Basic Occupational Skills Award prior to enrollment. Students completing this program will receive an Occupational Skills Award for Manual Machinist and OSHA 10 credential.
How to Begin
New students must register in person with COM's Continuing Education Office located in the Technical Vocational Building #5, Suite 1475. Returning students may register by calling the CE Office 409-933-8586, in person or online at www.com.edu/register.
Financial Assistance
Texas Public Education Grants (TPEG) – Assistance is based on financial eligibility and will pay up to 75% of tuition through COM's Financial Aid Office.
Hazelwood Act – Assistance is available to veterans, their spouses, and eligible children through COM's Student Financial Services/Veteran Affair's Office.
Workforce Innovation and Opportunity Act (WIOA) – Assistance is based on financial eligibility and will pay 100% of tuition and books through Workforce Solutions.
Scholarships at COM
---
Manual Machinist – Occupational Skills Award
Required course sequence
Course #
Title
Hours
In-district
Our of district
MCHN 1038

Basic Machine Shop

This course is an introduction to machining fundamentals. Students will use lathes, milling machines, drill presses, power saws and bench grinders. They will learn machine terminology, theory, trade mathematics, part layout and bench work using common measuring tools. They will demonstrate tooling maintenance and material handling, plus perform basic machine shop maintenance while following safety guidelines.

Prerequisites: MMT Basic Occupational Skills Award

64
$575
$580
MCHN 1013

Basic Milling

This course is an introduction to the common types of milling machines and their basic machines, part nomenclature, and basic machine operations and procedures. Students will identify milling machine components and their functions, calculate speeds and feeds, and set up and operate milling machines. They will apply safety, machine mathematics, blueprint reading and theory.

Prerequisites: MCHN-1038

64
$575
$580
MCHN 1008

Basic Lathe

The course is an introduction to the common types of lathe machines, part terminology, basic machine operations and procedures. Students will identify lathe machine components and their functions, calculate speeds and feeds, set up and operate lathe machines. They will apply safety, machine mathematics, blueprint reading and theory.

Prerequisites: MCHN-1038, MCHN-1013

64
$575
$580
MCHN 2041

Advanced Machining

This course is a study of advanced lathe and milling machines operations. The student will learn advanced cutting operations of lathes and milling machines, including the use of special tooling, bench assembly and materials identification.

Prerequisites: MCHN-1038, MCHN-1013, MCHN-1008

64
$575
$580
Total Hours
256
Required Textbooks
| Book Title | ISBN |
| --- | --- |
| Precision Machining Technology, 2nd Edition | 978-1-28-544454-3 |