LVN-RN Transition Track
Nursing Information Sessions - Please visit the Pre-Nursing Orientation link to see additional information sessions dates scheduled.
ADN Program – LVN-RN Transition Track
The LVN-RN Transition Track is designed for the licensed vocational nurse (LVN) applicant who wants to transition to the registered nurse (RN) role.
Graduates of the ADN Program are eligible to apply for licensure by examination as registered nurses.
Notice to Students Regarding Licensing
Effective September 1, 2017, HB 1508 amends the Texas Occupations Code Section 53 that requires education providers to notify potential or enrolled students that a criminal history may make them ineligible for an occupational license upon program completion. The following website provides links to information about the licensing process and requirements: https://www.bon.texas.gov/licensure_eligibility.asp.
Should you wish to request a review of the impact of criminal history on your potential Registered Nurse License prior to or during your quest for a degree, you can visit this link and request a "Criminal History Evaluation": https://www.bon.texas.gov/licensure_endorsement.asp.
This information is being provided to all persons who apply or enroll in the program, with notice of the requirements as described above, regardless of whether or not the person has been convicted of a criminal offense. Additionally, HB 1508 authorizes licensing agencies to require reimbursements when a student fails to receive the required notice.
Application Deadline
Summer admission - April 15 (extended deadline)
Application Update
Health Insurance is required.
Required Nursing Student Portal - Clinical Documentation Verification Forms can be found on the Nursing Student Resources link as follows: www.com.edu/academics/nursing/nursing-student-resources These forms will be required to be uploaded once the student has access to the Nursing Student Portal. All documentation must be PDF scanned files from a flatbed scanner. Do not take a photo of the immunization to upload it. Scanner apps from mobile devices are not acceptable.
NOTE: It is strongly recommended that students not work from 8-5p.m. the first 2 weeks of class due to pre-clinical orientation.
Plan of Study
Please refer to the plan of study in the current College Catalog for the LVN-RN Transition Program Track.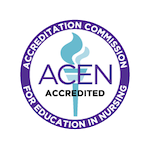 Accreditation Commission for Education in Nursing (ACEN)
3390 Peachtree Road NE, Suite 1400
Atlanta, GA 30326
409-975-5000
www.acenursing.org