Adult Education
Many Classes, Many Locations
Registration for Fall 2017 will be the week of August 21 - 24, 2017. The next class session will begin August 28, 2017. Please see the link below for more information.
Fall Registration for High School Equivalency and ESL Classes
The Adult Education Program
The Adult Education Program is dedicated to student success through improving students' reading, writing, mathematics and English language skills. This enhances both their opportunities and the economic prosperity of the diverse community we serve.
College of the Mainland offers courses leading to a high school equivalency diploma and English as a second language courses at two dozen locations throughout the mainland Galveston County, Galveston Island and Bay Area Houston/NASA areas. Find useful links to resources for students and faculty and staff.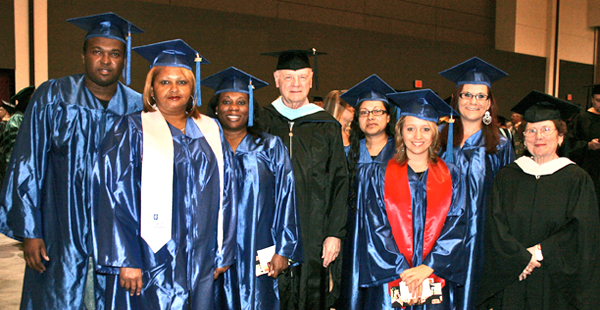 High School Equivalency (Formerly GED)
Adult basic education courses are perfect for improving reading, writing and math skills and preparing for a high school equivalency diploma. These eight-week courses are tuition free and conveniently offered in the morning or evening. Students who complete this course and obtain a high school equivalency diploma participate in a graduation ceremony.
For information on taking the high school equivalency test at COM, click here.
English as a Second Language (ESL)
Our ESL classes are designed to help students improve their ability to read, write, listen to and speak the English language. There is no minimum skill level required. Course are nine weeks and meet at many convenient locations. The tuition is free, and no books are required.
Eligibility
Classes are generally eight weeks and open to all Texas residents over the age of 18 who are not currently enrolled in a public school. Residents who are 17 may attend with proof of school withdrawal. Students who are 16 may be accepted under certain conditions. A valid government photo ID showing date of birth is required at registration. Please contact us at 409-933-8294 for more information.
Registration
All high school equivalency and ESL classes require in-person registration and testing. This is done the published day of registration on a first-come, first-served basis. The COM Adult Education Department cannot accept new students after the week of registration.
Attendance Policy
COM adult education programs are offered at no cost to the community through a partnership with COM, the Texas Education Agency and the U.S. Department of Education. In order to ensure student success and the best use of limited resources, all students are expected to adhere to our rigorous attendance policies. Excessive absences are grounds for being dropped from these classes, and students may not be able to register for the next term.