Gulf Coast Safety Institute
College of the Mainland will be closed for Spring Break March 11-19, 2017. Regular office hours will resume March 20.
---
Gulf Coast Safety Institute
The Gulf Coast Safety Institute was established in 2007 to provide safety and health training and education to workers and employers. Additionally, the Gulf Coast Safety Institute is an OSHA Challenge Program Administrator mentoring over 50 companies in improving their Safety and Health Management System to potentially achieve OSHA's Voluntary Protection Program STAR status.
The Gulf Coast Safety Institute currently operates three Centers of Excellence:

---
Upcoming Classes and Events
Free OSHA 10 Hour Construction (Spanish)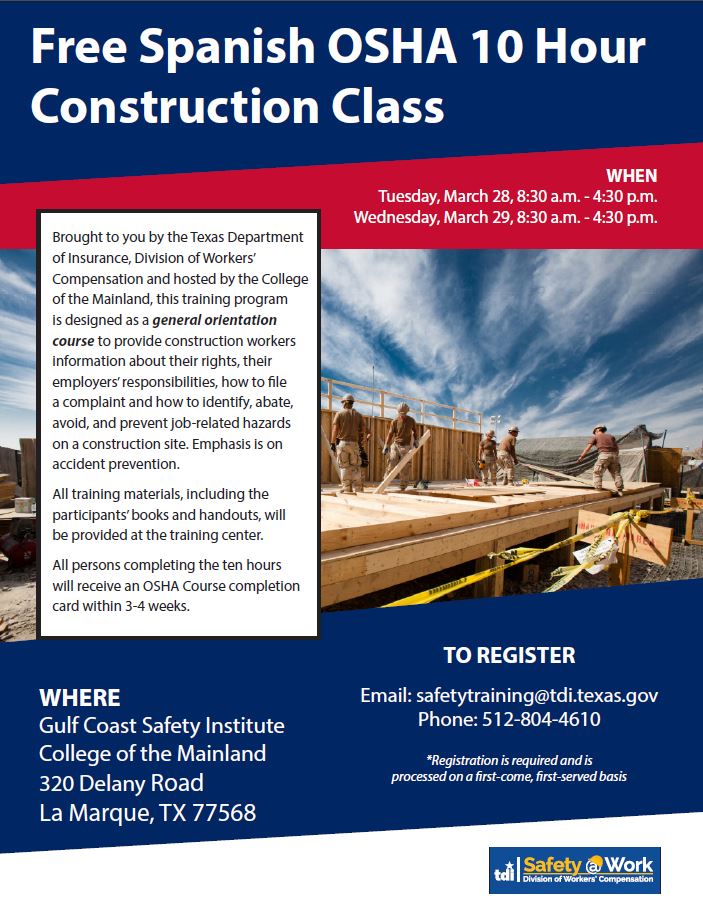 Download flyer here.
To reserve your space, call 512-804-4610 or email safetytraining@tdi.texas.gov
Class is limited to 30 people. Student check-in will begin at 8 a.m.
Evening OSHA 30hr General Industry (English)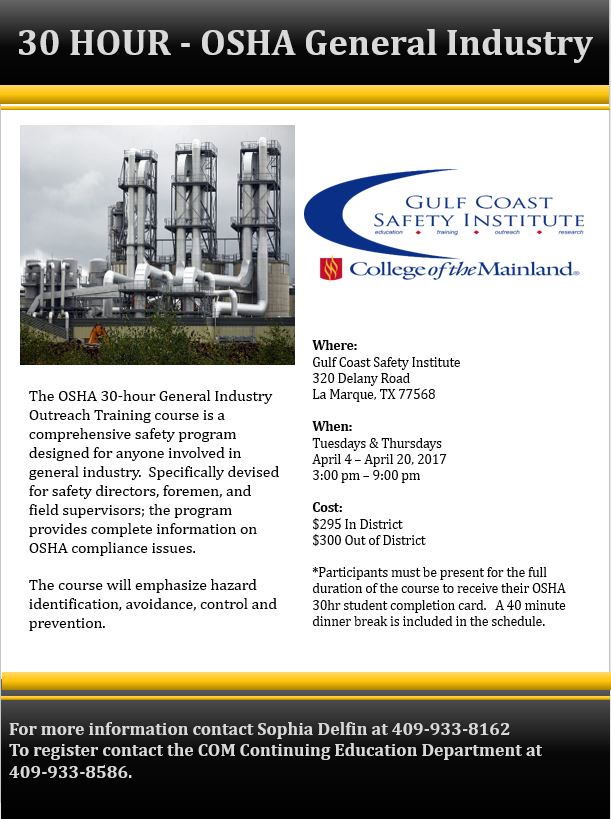 Download flyer here.
Save the Date...
Houston Fall Prevention Stand Down- Tuesday, April 25,2017.
The long-awaited OSHA rule on Walking-Working Surfaces and Personal Fall Protection Systems (29 CFR 1910 Subparts D&I) became effective in January. These updated regulations will have a major impact on maintaining a compliant fall protection program. This session provides attendees with an overview of the content, key impacts and deadlines to understand for your program.
We ask that all attendees please come prepared to discuss how their organizations have or plan to address the new requirements. Participants will leave the session better equipped to understand and implement changes required by the new regulations.

Please plan to join Gulf Coast Safety Institute and LJB Inc. on Thursday, April 13, from 10 a.m. – 1 p.m. to learn more about this significant change in the safety industry.

Registration and lunch are complementary for all registered participants. Registration is limited and will close on Monday, April 10.
---
Check out the latest from UTA...
University of Texas at Arlington to hold classes at Gulf Coast Safety Institute
2017 Class Schedule
The University of Texas at Arlington's OSHA Education Center and the expanded Environmental Training Institute deliver a wealth of training to help you manage environmental, health, and safety risks in your organization.

The following classes are being hosted by the Gulf Coast Safety Institute. All students must register with University of Texas at Arlington (UTA) prior to the start of class. Any student who has not registered with UTA will not be allowed to participate. When registering please inform UTA that you heard about the class from the Gulf Coast Safety Institute.
OSHA 511, Standards for General Industry, 3/28 - 3/31
MM 720, Environmental Monitoring, 3/28 - 3/29
MM 721, Environmental Monitoring Lab, 3/30 - 3/30
WTR 302, SWPPP, 4/10 - 4/10
WTR 303, SPCC, 4/12 - 4/13
OSHA 510, Standards for Construction, 5/30 - 6/2
MGE 802, Pollution Prevention and Lean Workshop, 5/31 - 6/2
All classes are presented at the Gulf Coast Safety Institute at 320 Delany Road, La Marque, TX 77568.
Student check-in will begin 30 minutes before class.

For Registration, questions and information:
University of Texas at Arlington
Phone: 817-272-2581
Toll free: 1-866-906-9190
Fax: 817-272-2556
Web: https://web-ded.uta.edu/wconnect/ace/index.asp
Email: cedquestions@uta.edu
Hours:
Monday - Thursday: 8 a.m. - 5:30 p.m.
Friday: 8 a.m. - 5 p.m.
Saturday/Sunday: Closed
---