Community Theatre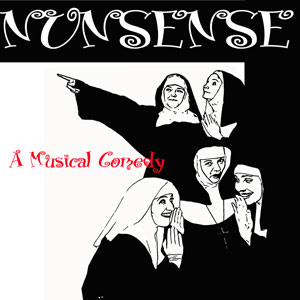 Nunsense
Jan. 28 – Feb. 14, 2016
by Dan Goggin
"Nunsense" is a hilarious musical spoof about the misadventures of five nuns trying to manage a fundraiser. Sadly, the rest of the sisterhood died from botulism after eating vichyssoise prepared by Sister Julia. Thus, the remaining nuns—ballet-loving Sister Leo, streetwise Sister Robert Anne, befuddled Sister Mary Amnesia, the Mother Superior Sister Regina, and mistress of the novices Sister Mary Hubert—stage a talent show in order to raise the money to bury their dearly departed. The score pulses with merriment and an unabashed desire to make you laugh, with songs and spontaneous comic interludes paced at break-neck speed. "Nunsense" offers a cornucopia of hilarity for the whole family, proving conclusively that "nun" rhymes with "fun"!
---
Open Auditions – Second Samuel
Sunday, Jan. 31 at 7 p.m.
Monday, Feb. 1 at 7 p.m.
---
Front Row Newsletter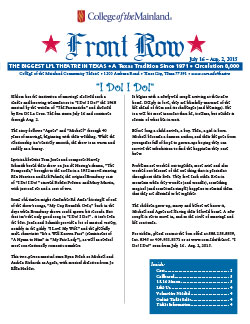 If you would like to be on the email list to receive our newsletter "Front Row," please email sgilbert@com.edu.
---
Theatre Box Office
Call the Box Office at 409-933-8345 or 1-888-258-8859, ext. 8345.
Since 1972, COM Community Theatre has presented over 228 productions including children's theatre, concerts and workshops with attendance of more than a quarter of a million people. The theater has been recognized as one of America's leading community theaters, setting high production standards and developing one of this country's most innovative programs.
Beyond education, the College of the Mainland Theatre bears a three-fold commitment: to provide quality theatrical experiences for residents of the area, to offer a forum for local and regional talent by holding open auditions and to extend the reputation of College of the Mainland.
---
2015-2016 Season
The COM Community Theatre announces the upcoming 2015-2016 season:
"Steel Magnolias" by Robert Harling
"Round and Round the Garden" by Alan Ayckbourn
"Nunsense" by Dan Goggin
"Second Samuel" by Pamela Parker
"Bleacher Bums" by Joe Mantegna
"The Drowsy Chaperone" Music & Lyrics by Lisa Lambert & Greg Morrison Book by Bob Martin & Don McKellar
For a schedule and description of each production, continue reading or view the 2015-2016 Season Brochure.