Community Theatre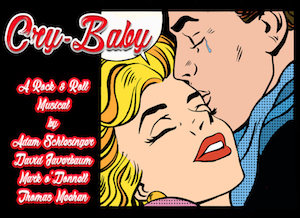 Cry-Baby: The Musical
July 12 – July 29, 2018
Tickets go on sale: June 5. 2018
Book by Thomas Meehan & Mark O'Donnell, Music and Lyrics by Adam Schlesinger & David Javerbaum
It's 1954. Everyone likes Ike, nobody likes communism and Wade "Cry-Baby" Walker is the coolest boy in Baltimore. He's a bad boy with a good cause – truth, justice and the pursuit of rock and roll. Cry-Baby and the rich girl, Allison, are star-crossed lovers at the center of this world. Fueled by hormones and the new rhythms of rock and roll, she turns her back on her squeaky-clean boyfriend, Baldwin, to be with Cry-Baby. Baldwin is the king of the squares and leads his close-harmony pals against the juvenile delinquents. It's Romeo and Juliet meets High School Hellcats. Filled with unforgettable songs and a fresh story, "Cry-Baby" will dance its way into the audience's heart!
2018-2019 Season
The COM Community Theatre announces the upcoming 2018-2019 season:
"Driving Miss Daisy" by Alfred Uhry
"Noises Off" by Michael Frayn
"You're a Good Man, Charlie Brown" based on the Comic Strip "PEANUTS" by Charles M. Schultz
"Born Yesterday" by Garson Kanin
"The Glass Menagerie" by Tennessee Williams
"Thouroughly Modern Millie" Music by Jeanine Tesori / Lyrics by Dick Scanlan / Book by Richard Henry Morris & Dick Scanlan
2018-2019 Season Brochure
View/Download the 2018-2019 Season Brochure (PDF)
---
2017-2018 Season
"Talley's Folly" by Lanford Wilson
"Eurydice" by Sarah Ruhl
"Lucky Stiff" book and lyrics by Lynn Ahrens, music by Stephen Flaherty
"Of Mice and Men" by John Steinbeck
"God's Man in Texas" by David Rambo
"Cry-Baby" book by Thomas Meehan & Mark O'Donnell, music and lyrics by Adam Schlesinger & David Javerbaum
2017-2018 Season Brochure
View the 2017-2018 Season Brochure.
---
Theatre Box Office
Call the Box Office at 409-933-8345 or 1-888-258-8859, ext. 8345.
Since 1972, COM Community Theatre has presented over 228 productions including children's theatre, concerts and workshops with attendance of more than a quarter of a million people. The theatre has been recognized as one of America's leading community theatres, setting high production standards and developing one of this country's most innovative programs.
Beyond education, the College of the Mainland Theatre bears a three-fold commitment: to provide quality theatrical experiences for residents of the area, to offer a forum for local and regional talent by holding open auditions and to extend the reputation of College of the Mainland.
---