Community Theatre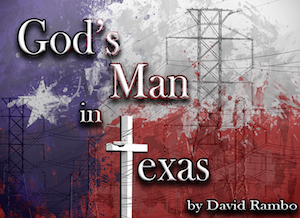 God's Man In Texas
May 17 – June 3, 2018
Tickets go on sale: April 24, 2018
by David Rambo
Faith and egos collide in the age of mass-market religion at Houston's Rock Baptist Church, "the Baptist Super Bowl." A search committee has been formed to find a successor to Rock's legendary pastor, 81-year-old Philip Gottschall. Gottschall protects what he has spent a lifetime building by backing young Jeremiah Mears as his replacement, but as Jerry gains a foothold, Gottschall's grip on his pulpit becomes as firm as his faith. When Hugo, the pastor's soundman, and Jerry discover their lives are astonishingly linked by past events, Gottschall fears their alliance and becomes haunted by "whisperings and secrets." As the struggle among this trinity of men climaxes, there is a sacrifice, a resurrection and, finally, salvation as God whispers to a listening heart.
2017-2018 Season
The COM Community Theatre announces the upcoming 2017-2018 season:
"Talley's Folly" by Lanford Wilson
"Eurydice" by Sarah Ruhl
"Lucky Stiff" book and lyrics by Lynn Ahrens, music by Stephen Flaherty
"Of Mice and Men" by John Steinbeck
"God's Man in Texas" by David Rambo
"Cry-Baby" book by Thomas Meehan & Mark O'Donnell, music and lyrics by Adam Schlesinger & David Javerbaum
View the 2017-2018 Season Brochure
View the 2017-2018 Season Brochure.
---
Theatre Box Office
Call the Box Office at 409-933-8345 or 1-888-258-8859, ext. 8345.
Since 1972, COM Community Theatre has presented over 228 productions including children's theatre, concerts and workshops with attendance of more than a quarter of a million people. The theatre has been recognized as one of America's leading community theatres, setting high production standards and developing one of this country's most innovative programs.
Beyond education, the College of the Mainland Theatre bears a three-fold commitment: to provide quality theatrical experiences for residents of the area, to offer a forum for local and regional talent by holding open auditions and to extend the reputation of College of the Mainland.
---