Community Theatre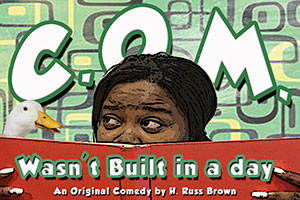 COM Wasn't Built in a Day
Nov. 3–20, 2016
by H. Russ Brown, COM Artistic Director / World Premiere!
A new, original comedy written in honor of College of the Mainland's 50th Anniversary Celebration! Very loosely based on people and events during COM's first semester in the fall of '67 at the old Booker T. Washington High School, COM president Dr. Herbert F. Stallworth already has plenty to contend with in getting his new college off the ground, but an Open House Night with no A/C just before a vital bond election doesn't make it any easier! Throw in a greedy town mayor, a wily chamber of commerce president, a very vocal student senate, a well-meaning custodian and additional pressure from "the powers that be" and you've got a hurricane of commotion! But with his trademark wit and affability, Dr. Stallworth navigates the rocky waters in this funny and affectionate mix of fact and fiction. The rest, as they say, is history!
---
Front Row Newsletter – The Drowsy Chaperone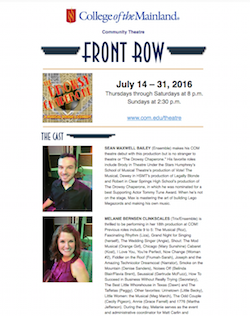 Never miss an issue. Subscribe to our Newsletter
---
Theatre Box Office
Call the Box Office at 409-933-8345 or 1-888-258-8859, ext. 8345.
Since 1972, COM Community Theatre has presented over 228 productions including children's theatre, concerts and workshops with attendance of more than a quarter of a million people. The theatre has been recognized as one of America's leading community theatres, setting high production standards and developing one of this country's most innovative programs.
Beyond education, the College of the Mainland Theatre bears a three-fold commitment: to provide quality theatrical experiences for residents of the area, to offer a forum for local and regional talent by holding open auditions and to extend the reputation of College of the Mainland.
---
Shows Remaining on the 2015-2016 Season
"The Drowsy Chaperone" Music & Lyrics by Lisa Lambert & Greg Morrison Book by Bob Martin & Don McKellar
For a schedule and description of each production view the 2015-2016 Season Brochure.
---
2016-2017 Season
The COM Community Theatre announces the upcoming 2016-2017 season:
"Crimes of the Heart" by Beth Henley
"COM Wasn't Built in a Day" by H. Russ Brown
"Lost In Yonkers" by Neil Simon
"Moon Over Buffalo" by Ken Ludwig
"Red" by John Logan
"Song of Singapore" by Alan Katz, Erik Frandsen, Robert Hipkens, Michael Garin and Paula Lockheart