Community Theatre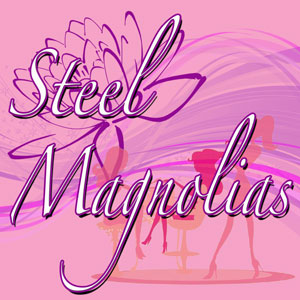 Steel Magnolias
Sept. 10-27, 2015
by Robert Harling
"Steel Magnolias" centers around a group of gossipy southern ladies in a small-town beauty parlor in Louisiana. This comedy-drama is alternately hilarious and touching—and, in the end, deeply revealing. The quintessential story of friendship and trust, "Steel Magnolias" serves up a southern slice of life that's as warm and comforting as sweet potato pie! In the world of Truvy's local homegrown beauty salon, six very different women come together to share their secrets, fears and love for one another. From weddings to divorces, babies to funerals, new beginnings to happy endings, they share each moment in their lives with grace, determination and perfectly coiffed hair.
---
Front Row Newsletter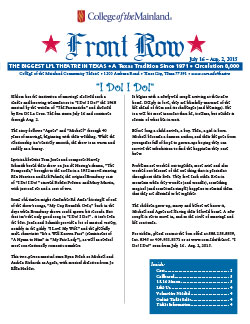 If you would like to be on the email list to receive our newsletter "Front Row," please email sgilbert@com.edu.
---
Theatre Box Office
Call the Box Office at 409-933-8345 or 1-888-258-8859, ext. 8345.
Since 1972, COM Community Theatre has presented over 228 presentations including children's theatre, concerts and workshops with attendance of more than a quarter of a million people. The theater has been recognized as one of America's leading community theaters, setting high production standards and developing one of this country's most innovative programs.
Beyond education, the College of the Mainland Theatre bears a three-fold commitment: to provide quality theatrical experiences for residents of the area, to offer a forum for local and regional talent by holding open auditions and to extend the reputation of College of the Mainland.
---
2015-2016 Season
The COM Community Theatre announces the upcoming 2015-2016 season:
"Steel Magnolias" by Robert Harling
"Round and Round the Garden" by Alan Ayckbourn
"Nunsense" by Dan Goggin
"Second Samuel" by Pamela Parker
"Bleacher Bums" by Joe Mantegna
"The Drowsy Chaperone" Music & Lyrics by Lisa Lambert & Greg Morrison Book by Bob Martin & Don McKellar
For a schedule and description of each production, continue reading or view the 2015-2016 Season Brochure.