Community Theatre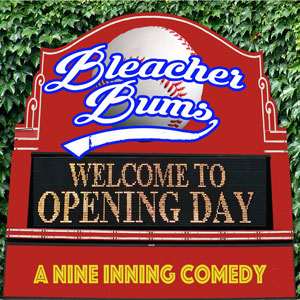 Bleacher Bums
May 19 – June 5, 2016
by Joe Mantegna
This will be the year. In this "nine-inning comedy," set in the bleachers of Chicago's Wrigley Field, the long suffering, die-hard, "wait until next year" Cub fans return annually to root for their team. Today's opponent is the despised St. Louis Cardinals. A rabid cheerleader, a blind man who does color commentary, a sun-worshipping beauty and a hen-pecked husband bet among themselves, splurge for hot dogs and, occasionally, watch the game. Will the Cubs win the home game, and who will the real winners be? Come to the game and find out.
---
Open Auditions – The Drowsy Chaperone
Directed by COM Artistic Director, H. Russ Brown
Sunday, May 8, 2016, at 7 p.m.
Monday, May 9, 2016, at 7 p.m.
A prepared verse/chorus from a golden age style musical is greatly encouraged, but not required. Bring sheet music – an accompanist will be provided. Songs will be followed with a simple dance audition and cold readings from the script. All listed ages of roles are approximate, not hard cutoffs.
---
Front Row Newsletter – Second Samuel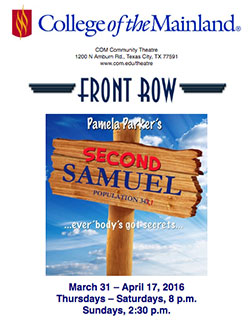 Never miss an issue. Subscribe to our Newsletter
---
Theatre Box Office
Call the Box Office at 409-933-8345 or 1-888-258-8859, ext. 8345.
Since 1972, COM Community Theatre has presented over 228 productions including children's theatre, concerts and workshops with attendance of more than a quarter of a million people. The theatre has been recognized as one of America's leading community theatres, setting high production standards and developing one of this country's most innovative programs.
Beyond education, the College of the Mainland Theatre bears a three-fold commitment: to provide quality theatrical experiences for residents of the area, to offer a forum for local and regional talent by holding open auditions and to extend the reputation of College of the Mainland.
---
Shows Remaining on the 2015-2016 Season
"Bleacher Bums" by Joe Mantegna
"The Drowsy Chaperone" Music & Lyrics by Lisa Lambert & Greg Morrison Book by Bob Martin & Don McKellar
For a schedule and description of each production, continue reading or view the 2015-2016 Season Brochure.
---
2016-2017 Season
The COM Community Theatre announces the upcoming 2016-2017 season:
"Crimes of the Heart" by Beth Henley
"C.O.M. Wasn't Built In A Day" by H. Russ Brown
"Lost In Yonkers" by Neil Simon
"Moon Over Buffalo" by Ken Ludwig
"Red" by John Logan
"Song of Singapore" by Alan Katz, Erik Frandsen, Robert Hipkens, Michael Garin and Paula Lockheart