Torch
The College of the Mainland Newsletter
College of the Mainland Torch Newsletter – Volume One | Number One 2017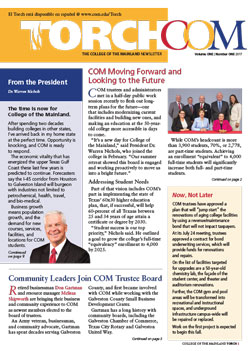 After spending two decades building colleges in other states, I've arrived back in my home state at the perfect time. Opportunity is knocking, and COM is ready to respond.
The economic vitality that has energized the upper Texas Gulf Coast these last few years is predicted to continue. Forecasters say the I-45 corridor from Houston to Galveston Island will burgeon with industries not limited to petrochemical, health, travel, and bio-medical.
Business growth means population growth, and the demand for new courses, services, facilities, and locations for COM students.
Continued on page 8
UNIVERSIDAD DE MAINLAND TORCH VOLUMEN UNO | NÚMERO UNO 2017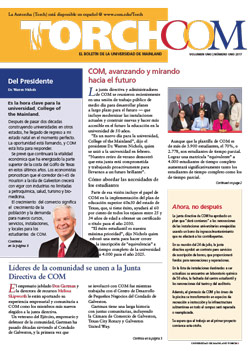 Después de pasar dos décadas construyendo universidades en otros estados, he llegado de regreso a mi estado natal en el momento perfecto. La oportunidad está llamando, y COM está lista para responder.
Se prevé que continuará la vitalidad económica que ha energizado la parte superior de la costa del Golfo de Texas en estos últimos años. Los economistas pronostican que el corredor de I-45 de Houston a la isla de Galveston crecerá con vigor con industrias no limitadas a petroquímica, salud, turismo y biomedicina.
El crecimiento del comercio significa el crecimiento de la población y la demanda para nuevos cursos, servicios, instalaciones, y locales para los estudiantes de COM.
Continúa en la página 8