LVN-RN Transition Track
Nursing Information Sessions - Please visit the Pre-Nursing Orientation link to see additional information sessions dates scheduled.
ADN Program – LVN-RN Transition Track
The LVN-RN Transition Track is designed for the licensed vocational nurse (LVN) applicant who wants to transition to the registered nurse (RN) role.
Graduates of the ADN Program are eligible to apply for licensure by examination as registered nurses.
Notice to Students Regarding Licensing
Effective September 1, 2017, HB 1508 amends the Texas Occupations Code Section 53 that requires education providers to notify potential or enrolled students that a criminal history may make them ineligible for an occupational license upon program completion. The following website provides links to information about the licensing process and requirements: https://www.bon.texas.gov/licensure_eligibility.asp.
Should you wish to request a review of the impact of criminal history on your potential Registered Nurse License prior to or during your quest for a degree, you can visit this link and request a "Criminal History Evaluation": https://www.bon.texas.gov/licensure_endorsement.asp.
This information is being provided to all persons who apply or enroll in the program, with notice of the requirements as described above, regardless of whether or not the person has been convicted of a criminal offense. Additionally, HB 1508 authorizes licensing agencies to require reimbursements when a student fails to receive the required notice.
Application Deadline
Summer admission - Application must be submitted by 5 p.m. on March 22.
Application Update
The Transition Application status has been updated for all Summer 2019 admission period applicants. Those offered admission or top alternate positions will need to accept or decline their offer no later than Tuesday, 4/16/19, by 5p.m. in order to be eligible. An instructional letter with important follow-up deadlines will be sent out within a week. The letter will be sent to COM emails only.
Health Insurance is required.
Required Nursing Student Portal - Clinical Documentation Verification Forms can be found on the Nursing Student Resources link as follows: https://www.com.edu/nursing/nursing-student-resources These forms will be required to be uploaded once the student has access to the Nursing Student Portal. All documentation must be PDF scanned files from a flatbed scanner. Do not take a photo of the immunization to upload it. Scanner apps from mobile devices are not acceptable.
NOTE: It is strongly recommended that students not work from 8-5p.m. the first week of class due to pre-clinical orientation.
Plan of Study
Prerequisite Courses 1
Course
SCH
ENGL 1301
Composition I
3
BIOL 2401
Human Anatomy and Physiology I
4
BIOL 2402
Human Anatomy and Physiology II
4
BIOL 2420
Microbiology
4
PSYC 2301
Introduction to Psychology
3
PSYC 2314
Lifespan Development
3
Semester 1
Course
SCH
RNSG 1327
Transition to Professional Nursing
3
RNSG 1263
Transition Clinical
2
RNSG 1215
Health Assessment
2
RNSG 2213
Mental Health Nursing
2
RNSG 2261
Mental Health Nursing Clinical
2
Semester 2
Course
SCH
RNSG 1251
Care of Childbearing Family
2
RNSG 2260
Care of Childbearing Family Clinical
2
RNSG 2101
Care of Children and Families
1
RNSG 1262
Care of Children and Families Clinical
2
Language, Philosophy and Culture Course/Creative Arts**
3
**See Core Curriculum in the current catalog for approved courses.
Semester 3
Course
SCH
RNSG 1443
Complex Concepts of Adult Health
4
RNSG 2262
Complex Concepts of Adult Health Clinical
2
RNSG 2230
Professional Nursing Review/Licensure Preparation
2
RNSG 2263
Capstone Clinical
2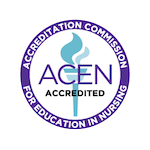 Accreditation Commission for Education in Nursing (ACEN)
3343 Peachtree Road, Suite 850
Atlanta, GA 30326
409-975-5000
www.acenursing.org