Police Department educates and protects on the front lines of the COVID-19 pandemic
Jul 09, 2020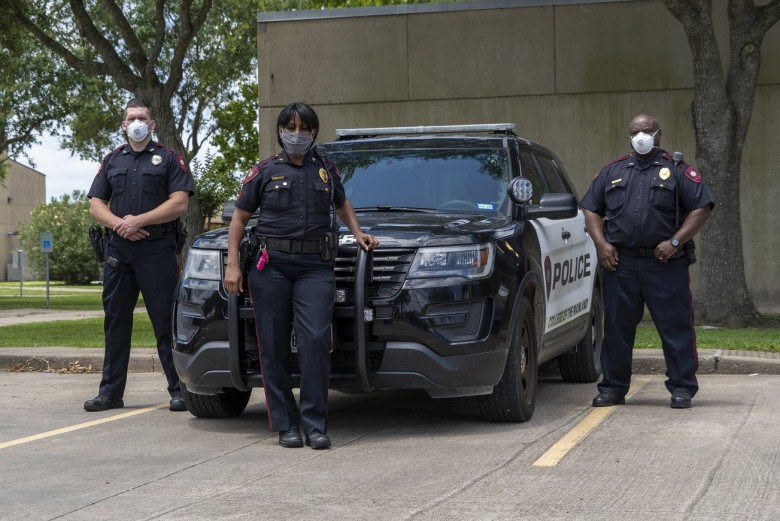 For Officer Jacob Williams, working at COM during the past few months of the COVID-19 pandemic has served as a reminder on just how important his role is with the College of the Mainland Police Department (COM PD) during critical times. As an essential worker Williams is one of only a handful of employees working on campus during the pandemic.
"Working law enforcement during the pandemic has only solidified for me how special this career is," Williams said. "No matter what the situation or how dangerous it is police officers still suit up every day and go to work to serve and protect their community. Days, nights, weekends and holidays, we are always here no matter what, doing what we can to help, serve and protect."
The COM PD, which is the central law enforcement body of the college, provides security for college facilities and assistance to students, visitors, faculty, and staff 24 hours a day, seven days a week. But currently, officers who regularly patrol campus parking lots and provide building security on campus, have seen a slight shift in their normal job functions because of the pandemic. More recently, many officers have stepped up to fill a critical niche in educating the public on how they can protect themselves and their neighbors against the dangers of the virus.
"I find myself trying to educate the visiting community more and limiting the foot traffic through the center of campus, not only for our protection but for the community's protection as well," said Sergeant Vanessa Walker.
With the campus being closed, officers have also stepped up patrol in other areas to prevent any crimes against the college or community members enjoying the pond area and walking the track.
"I continuously stress the importance of social distancing and the wearing of PPE while visiting the campus walking track and pond area," Walker said.
While the COM PD has shifted some of its focus to meeting the new realities during these uncertain times, their normal duties as police officers have not stopped especially with regards to protecting the campus from burglaries and thefts.
"Although the campus is closed, there are several community members still on the campus exercising at the track and pond area throughout the day," said Lieutenant Rodney Meyers. "More so now since a lot are out of work."
And with this increased community presence, COM PD reminds the public that above all else, they are here to protect, serve and offer protection for their neighbors, even during a pandemic.
"I love what I do, so anything I can do to help someone else, essential or not, I will do my best to do so," said Sergeant Walker. "Being kind, patient and understanding of the needs of others goes a long way during these difficult times."