Community Education
Community Education provides personal development learning opportunities which are available for the benefit and enjoyment of our community ages 18+.
Workshops/Classes may be held at the Lifelong Learning Center or off-site in the local community, depending on the topic.
Spring 2021 Schedule
Check out this semester's offerings under the Community Education section of our catalog on page 34.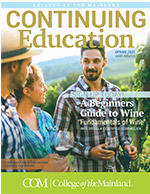 Download the Spring 2021 CE Schedule (7.6MB)