50 Plus
Our 50Plus program provides affordable, quality learning for those aged 50+ through classes designed to inspire as well as help you stay socially connected.
Semester Offerings
Check out this semester's offerings under the 50 Plus Course section of our catalog on page 39.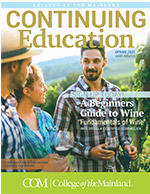 Download the Spring 2021 CE Schedule (7.6MB)
50 Plus ID Card
Students who purchase a 50Plus Fit­ness Membership to use the gym on the main campus will be provided a free ID card to gain access into the gym facility.
All other 50Plus students who want an ID to receive the benefits below must pay a one-time $5 fee. If the ID card is lost or stolen, the replacement cost is $5. No cash payments can be accepted. Debit or credit card payments must be made at the cashier's desk located in the Enrollment Center, and members must take the receipt to the gym front desk to have an ID made. Please bring a valid photo with you.
Card Benefits include:
Discount on COM cosmetology services at The Salon at College of the Mainland. Call 409-933-8480 for more information.
Free admittance for COM Community Theatre (preview night only). Call 409-933-8345 for more information.
Use of the COM Library
Use of the Innovations Computer Lab in TVB-1324
Note: Cost of copies/printing varies per location. COM reserves the right to limit the number of copies per student.