ITT Help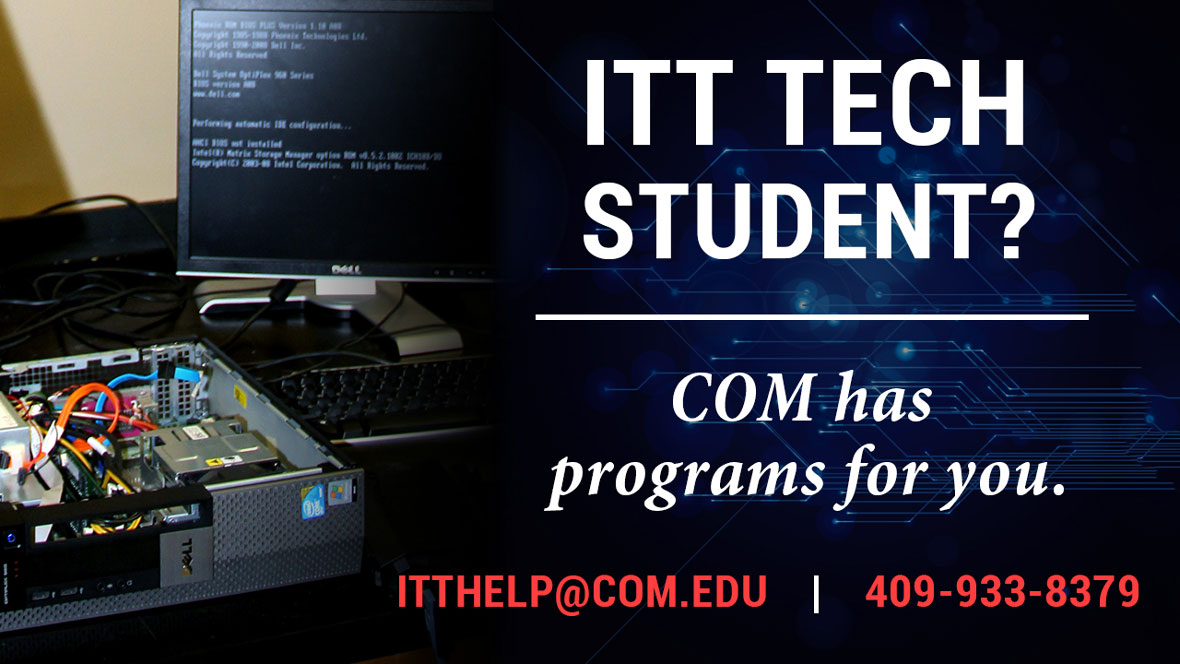 COM is ready to assist students affected by ITT Technical Institute's campus closures nationwide.
How can College of the Mainland help?
COM advisors are standing by to answer your questions. Click here to request information or call 409-933-8379.
ITT students may also view a list of COM's current degree and certificate programs at www.com.edu/academics.
If you are an ITT Tech employee and interested in working for COM, please visit our Jobs at COM page.
We're Veteran Friendly
COM is committed to the education of military members, veterans and their families. Contact the Veterans Center. http://www.com.edu/veterans.
Are you an ITT Tech instructor?
COM is looking for computer technology and networking instructors. For more information, call 409-933-8311.
ITT Closing: Open Letter to ITT Students from U.S. Education Secretary John B. King Jr.
September 6, 2016 – Today, ITT Educational Services, Inc. (ITT) announced that it is closing all of its ITT Technical Institute campuses.
The U.S. Department of Education is committed to helping you as you consider next steps. Most immediately, you have two basic options to choose between:
If you are currently or were recently enrolled at ITT, you may be eligible to have your federal student loans for your program at ITT discharged. Your federal loan debt will be wiped away and you will have the option of restarting your education somewhere new. The Department of Education will post and update information about how to receive a discharge on the ITT announcements page.
If you wish to continue and complete your program at a different school – especially if you are close to graduating – you may be able to transfer your credits. It is important to note that transferring your credits may limit your ability to have your federal loans discharged. Closed school discharge may be an option if you enroll in a different program that does not accept your ITT credits.
---
Both of these options have pros and cons, depending on your unique circumstances, so it is important that you consider your specific situation carefully. The Department's Office of Federal Student Aid is ready to support you with resources and information, including through this website, and will be updating you with more information in the coming days and weeks.