Employee of the Month
March 2019
Johnny Tinsley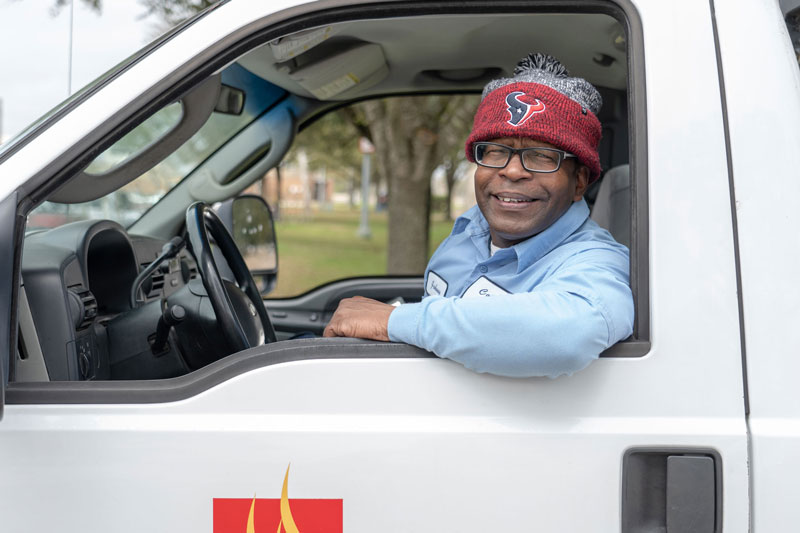 If anyone were asked to describe Johnny Tinsley in one word it would be: smile.
Tinsley's friendly smile stands out in all the maintenance jobs he does throughout the campus. His enthusiastic attitude and dedication has made Tinsley the March Employee of the Month.
Tinsley, who works as part of the Facilities Department handling garbage pickup and a custodian, has been employed at COM for 10 years.
"Johnny is seen throughout campus with a friendly smile and helping hand. He goes out of his way to assist and ensure that the COM campus is clean and does so with pride," his nominator said. "Johnny is always at work with an enthusiastic attitude. He makes sure that areas are well maintained and always ask if there is anything else he can help with."
For Tinsley, being able to "help out and meet different people from all walks of life" is what he enjoys the most about working at the college.
Things you may not know about Johnny Tinsley:
What do you like to do when not working? I love sports, I am a huge fan of the Houston Texans and enjoy watching all of their games
Last good movie you watched? I like scary movies, I went to go see Halloween - the latest release.
Dogs or cats? Do you have any? If so, their name(s). I don't have any pets but if I did have one it would be a dog.
What's on your bucket list to visit? If I can go anywhere, I would love to go to Las Vegas.
Hobbies? I like to play basketball when I can and watch it on TV.
---
Employee of the Month Nomination Form