Past Galas
2016 Gala – 50th Anniversary
View Photos from the 50th Gala on Facebook
---
2015 Gala – Bridge to the Future
Bridge to the Future Gala 2015 Facebook Photo Album
COM Foundation UTMB Tribute Video
2014 Gala – Honoring the Doyle Family
It is the COM Foundation's goal to turn students' dreams of success into reality. The annual Foundation Gala serves as the primary fundraising event. The success of this event depends on the generous support of our business community, alumni and friends of the college.
We appreciate your interest in the COM Foundation and in helping our students. Please consider becoming an underwriter of the COM Foundation Gala in September 2015.
---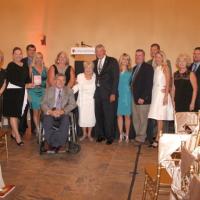 In a record-breaking gala Sept. 19 at Tuscan Courtyard in Texas City, College of the Mainland Foundation grossed more than $102,000 to help students reach their career and educational goals.
Beacon of Hope Gala 2014 Facebook Photo Album (click to view)