Donor Profile
Denise Navarro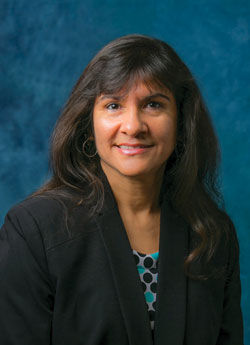 Denise Navarro credits College of the Mainland for getting her on track for a successful career and that of her children. As a result, Navarro and her family have established two Logical Innovations, Inc. Scholarships at the college, the first in 2012, and the second as an endowed scholarship in 2018.
After working in the aerospace industry for years, Navarro established Logical Innovations in 1999 but it wasn't until 2006 when she knew she was ready that the company went operational. With a successful company, Navarro and her family decided to give back to COM by way of a scholarship.
"Establishing the initial Logical Innovations Scholarship at College of the Mainland was a turning point for me, not only as a proud alum, but as a member of my community," Navarro said. "These scholarships enable me to do my part in helping to set a positive path forward for academically capable young men and women of Galveston County through a foundational secondary education at COM; a foundation set by COM not only for me but for my children and many of my family members."
Logical Innovations provides technical, business, creative and administrative services for the federal government, primarily with NASA (with several locations across the country, including the Johnson Space Center), Department of Defense; United States Agency for International Development; Department of Interior (National Parks Service); Department of Commerce (U.S. Census Bureau); Department of Homeland Security (FEMA), and Department of Transportation (Federal Highway Administration and the Federal Aviation Administration). The company is headquartered in Houston with operations in California, Florida, New Mexico, and Washington, D.C.
Navarro says she is pleased to be associated with College of the Mainland, especially as the school continues to grow and provide outstanding educational opportunities.
"I am proud of the improvements that COM has made over the years to continuously evolve for the betterment of its students, faculty and supporters. I also am proud of my COM heritage and want to see others benefit as I have."
Navarro received an Associate of Science degree in Computer Data Processing from COM before earning a bachelor's degree in Computer Information Systems and a Master's in Business Administration from the University of Houston-Clear Lake. Both of her children, Michael and Erica, graduated from COM as did her daughter-in-law and son-in-law, and a variety of other family members. Navarro is proud that the COM tradition continues with her goddaughter currently enrolled in the nursing program.
Denise Navarro and son, Michael Navarro, were both named as COM distinguished alumni in 2016 and 2018, respectively.
Denise Navarro said she would encourage every COM student to take inventory of their dreams and interests, and then make a plan to see them through.
"Seek out mentors and advisors who can share their stories and help you avoid some of the common pitfalls. We are all unique individuals, and your success will come when you've found your calling and follow that path because you will be happy in what you're doing," she said.
Helping students succeed is why Navarro would recommend others to set up a scholarship.
"Setting up a scholarship at COM can set a student on his/her path for success. You can feel proud that you are a small part of their stories."
About the Logical Innovations, Inc. Scholarships
Amount: $7,000 over two years at COM
Requirements: Applicant must be an incoming freshmen graduating from Dickinson, Hitchcock, La Marque, Santa Fe or Texas City High schools with a minimum GPA of 2.5
Required Hours at COM: Must be enrolled in at least six hours per semester
GPA: Must maintain a 2.8 GPA after receiving the scholarship