Paramedic Certificate
Paramedic Certificate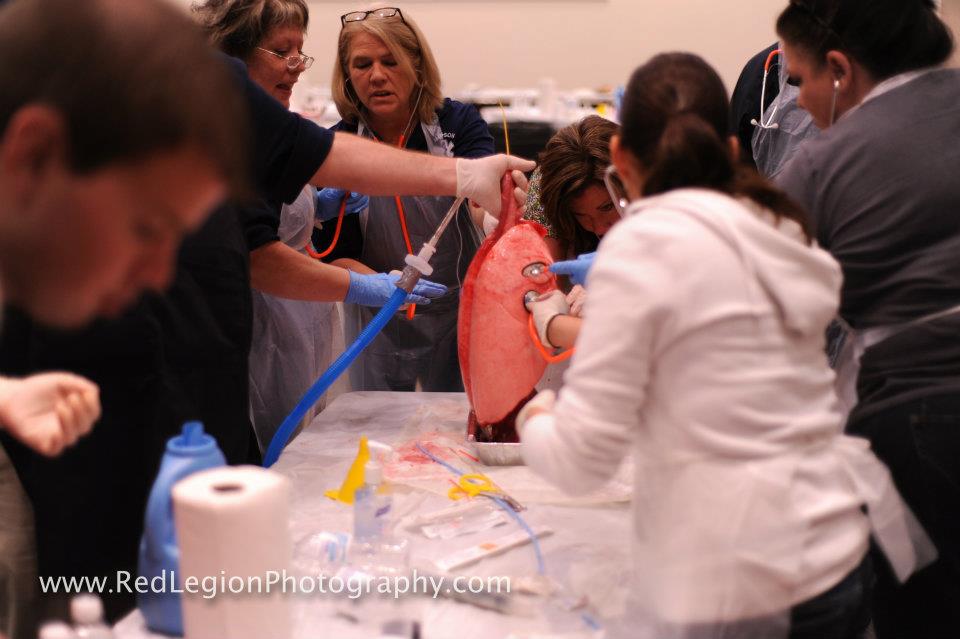 Learning advanced life-saving skills, students in the COM Paramedic Program discover how to read ECGs and administer more medications. Through labs, hands-on classes and clinicals, students prepare for the National Registry Paramedic Certificate exam and for a successful career in a rapidly growing field.
You must be state-certified as an EMT-Intermediate (or NREMT AEMT) around the end of the fourth week of class. Look for the exact date in your welcome letter. The daytime, full-time Paramedic program begins each January and continues through the spring and summer semesters.
Many students are concerned at the length of our program (two semesters)--however, this change specifically benefits our students. When COM previously scheduled paramedic for only a single semester, the classroom hours were too numerous to allow students to attend clinicals and they didn't finish until August (if they finished at all). The schedule is now set up to gradually decrease classroom hours to allow for clinicals:
1st 8 weeks = MWF 0800-1700 No Clinicals
2nd 8 weeks = MW 0800-1700 12-hour clinical shift required per week
Summer 1st 4 weeks = MW 0800-1700 24-hour shift required per week
Summer last 6 weeks = M 0800-1700 and 36 to 48 clinical hours required per week.

So, our program appears "longer" but it is truly set up to help people with other commitments to finish successfully. If you stay on the prescribed schedule, you will finish completely by the following August. If, for some reason, you are unable to complete clinicals, it may be possible to get up to a 60-day extension. Any time beyond that to finish will result in a requirement to retake ALL final exams.
All deadlines (registration, financial aid, etc) are identical to those found in the COM Academic Calendar. Look for the MANDATORY Orientation date included in your welcome letter!
Semester

Duration

2019 Start Date

Days

Time

Spring and

Summer

16 weeks

10 weeks

Jan. 23

M/W/F

8 a.m.–5 p.m.
Application and Registration Procedures
Completed, cleared background check. (Instructions are on last page of Program Info Packet, below. There is no need to pay the extra fee for the card the service offers). If you have done a background check for the program within the last 12 months, you are not required to submit a new one. These take 2-3 business days to process. Once the check is complete, we will contact you via email that your registration form is signed and ready. You will have to register in person at the Enrollment Center/Administration Building.
The college will be communicating with you via your NEW COM email address--about a week after you have applied to the college, you should access your new email account. See instructions here.
Apply to the College if you are a new student. Complete all College requirements (placement testing, meningitis vaccine, etc.).
Gather your items to qualify for clinicals – see page 3 of the Program Info Packet. Save your documents--we will direct you what to do with them the first week of class. The packet provides complete information regarding physical exam, drug screen and immunization requirements. **Failure to complete these requirements in a timely manner will result in failure of the clinical class.
Obtain American Heart Association BLS Provider CPR (AHA-BLS CPR) certification. This is required prior to attending clinicals; it is also required prior to certification testing by NREMT. The class is offered through COM—see the Continuing Education Schedule. It is also possible to find local fire departments, hospitals and companies that offer the required AHA CPR class (not Red Cross CPR).
Attend Mandatory Orientation, usually held the week before class starts.
Study--you are expected to pass an Airway Competency Exam on the first day of class or be excused from the program. The exam covers anatomy, physiology, indications, methodology of BLS and ALS airway management at the EMT-Intermediate level. You may find this Study Guide helpful in preparation.
Curriculum
EMT-Intermediate classes are approved by the Texas Department of State Health Services. The program exceeds NHTSA National EMS Scope of Practice and Education Standards and includes classroom lectures and activities; hands-on, life-saving skills training; and scenario-based practice. Additionally, students attend on-site clinical training at hospitals and with area ambulance services. The curriculum is incorporated into the following courses:
Spring Courses (16 hours)
EMSP 2306—Pharmacology
EMSP 2444—Cardiology
EMSP 2434—Medical Emergencies
EMSP 2561—Clinical - Emergency Medical Technology/Technician (EMT Paramedic)
Summer Courses (7 hours)
EMSP 2330—Special Populations
EMSP 2243—Assessment-Based Management
EMSP 2135—Advanced Cardiac Life Support
EMSP 2169—Practicum (or Field Experience) - Emergency Medical Technology/Technician (EMT Paramedic)
Note: Courses must be completed sequentially. Any student in the EMS Program who fails to gain Course Completion within 60 days of completion of the classroom portion of the class will, at minimum, be required to take competency exams to demonstrate retention of the material.
Course Completion
Upon successful completion of required elements, students are authorized to test via the National Registry online system. Also, an initial application must be made to the Texas DSHS. Students must also demonstrate skills proficiency at a National Registry-sanctioned event (in person). COM makes every effort to sponsor such events in a timely manner. Students also have the option to take NR skills testing anywhere it is available.
Approximate Costs
Item

Cost

Spring

Cost

Summer

Tuition and Fees, In District

$747

$519

Tuition and Fees, Out of District

$1,227

$799

Laboratory Fee

$175
$0

Clinical Liability Insurance

$15

$0

Uniforms and supplies

$150
$0

Purchased Books (approximate)

$350

$0

Online Services

$30
$0
Students who did not complete prior training in our program will need to purchase uniforms, which cost approximately $150.
The book for EMT-I is also used in the paramedic curriculum.
Textbooks
You may purchase the textbooks anywhere you choose.
Nancy Caroline's Emergency Care in the Streets, 8th Edition

(Jones and Bartlett)
ISBN: 9781284087345 (For the two-volume book plus workbook)

Nancy Caroline's Emergency Care in the Streets, 8th Edition

(Student Workbook)
ISBN: 978-0763744120

2015 Handbook of Emergency Cardiovascular Care for Healthcare Providers

Publisher: American Heart Association ISBN-13: 978-1-61669-419-7

Pharmacology for the Prehospital Professional

(Mosby/Jems Elsevier)
ISBN: 978-1-284-03806-4
(Published Nov. 2011, Revised Edition)

ECG Workout: Exercises in Arrhythmia Interpretation

Huff, Jane, (Wolters Kluwer, 7th edition, 2017)

Required:

Any HARD COPY of pocket EMS field guide (you'll need for national certification testing)--make SURE it was published after 2015 (for most updated AHA Guidelines)

Any drug handbook or smart-phone medication application
Uniforms
Previous students of the program will already have the required uniform components which includes:
COM polo shirt
Black EMT Pants
Stethoscope
Black belt
Black work shoes or boots
Additional info will be provided during the first week of class.
Financial Aid/Scholarships/Other Funding Sources
In order to receive financial aid, students must complete the FAFSA (Free Application for Federal Student Aid) and the COM Financial Aid Application, regardless of the type of financial aid sought. Veterans should contact the Financial Aid Office directly for additional guidance in Veterans Affairs.
Another possible source of funding is the COM Foundation. It is a nonprofit organization that distributes a wide variety of need and non-need-based scholarships. Look under the category "Public Service Careers" for those scholarships designated specifically for EMS candidates. The deadline to apply is generally in late July.
Students may also qualify for receive grants from Texas Public Education Grant. (Note: The FAFSA application determines eligibility for these grants.) The College for All Texans website may give you additional suggestions such as Veteran's and Texas Workforce (see subtitle B here) benefits. As always, contact the experts in the Financial Aid Office at 409-933-8274 for additional information.
Still need help?