Networking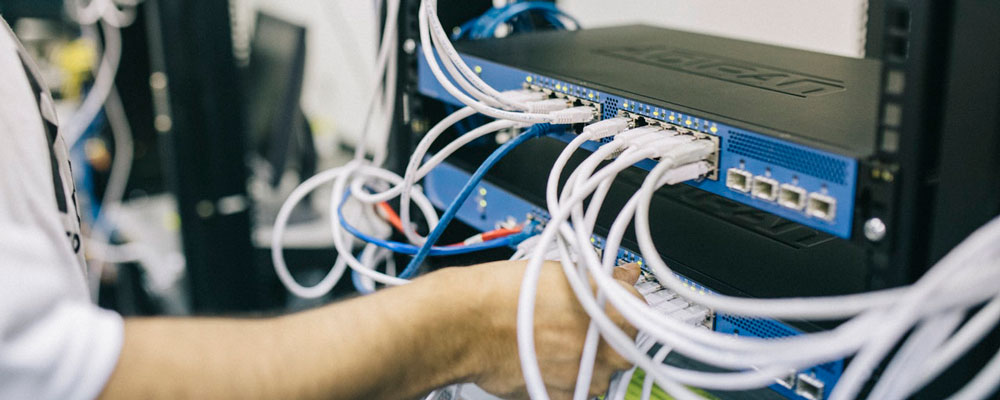 About the Career
Constructing the networks others rely on, network administrators maintain LANs, WANs and intranets. A growing field, network administrators are in demand in all organizations and businesses.
Network Administrators

Network administrators maintain LANs, WANs and intranets. They are in demand in all businesses and organizations, and the field is expanding as technology advances. Network administrators often have a bachelor's degree, and they earn a median salary of $81,100.

Computer Network Support Specialist

Computer network support specialists test and troubleshoot existing networks. They earn an average of $62,340.
For additional information search the Occupational Outlook Handbook
About the Program
Graduates are equipped with necessary tools needed to be competitive in the technology job market place. Students learn about setting up desktops and servers, troubleshooting, hardware and software.
After completing the COM networking certificate, students may enter the workforce as network administrators or computer support specialists. The Networking program provides extensive practical experience while also preparing students for many industry recognized technology certifications.
---
Occupational Skills Award - Networking Fundamentals
Upon completion of the Networking Fundamentals Occupational Skills Award, the student will be equipped to pass both COMPTIA A+ certification exams in Personal Computer Hardware and PC Operating Systems.
The COMPTIA A+ certification is recognized by the IT industry and positions the student to find employment in this area.
Additionally, the student will have the ability to gain two Microsoft certifications as well as completion of prerequisites for many of the courses found in the Networking Certificate.
Recommended Full-Time Student Schedule
Semester 1
Course
SCH
ITNW 1308
Implementing and Supporting Client Operating Systems
3
ITNW 1354
Implementing and Supporting Servers
3
ITSC 1325
Personal Computer Hardware
3
ITSC 1305
Introduction to PC Operating Systems
3
Semester Total
12
Total Semester Credit Hours: 12
Certificate – Networking
The Networking Certificate is designed to provide the student with a well-rounded education for obtaining employment as a Network or Systems Administrator. Each course in this certificate is associated with an industry exam, and in most cases, with an industry certificate. Students are also assisted in locating a co-op opportunity with local organizations.
Students can take four classes to obtain an Occupational Skills Award. All courses comprising the Occupational Skills Award is included in the Networking Certificate. Additionally, the courses in this certificate may transfer to a 4-year university which offers applied science bachelor's degrees. This is a Level One Certificate.
Recommended Full-Time Student Schedule
Semester 1
Course
SCH
ITSC 1325
Personal Computer Hardware
3
ITSC 1305
Introduction to PC Operating Systems
3
ITNW 1308
Implementing and Supporting Client Operating Systems
3
ITNW 1354
Implementing and Supporting Servers
3
ITSC 1316
Linux Installation and Configuration
3
Semester Total
15
Semester 2
Course
SCH
ITSC 1391
Special Topics in Computer and Information Sciences, General Linux
3
ITNW 1325
Fundamentals of Network Technology
3
ITNW 1345
Implementing Network Directory Services
3
ITNW 1353
Supporting Network Server Infrastructure
3
Semester Total
12
Semester 3
Course
SCH
ITSY 1300
Fundamentals of Information Security
3
ITNW 2312
Routers
3
Semester Total
6
Semester 4
Course
SCH
ITNW 2305
Network Administration
3
ITNW 1480
Cooperative Education - Computer Systems Networking and Telecommunications
4
Semester Total
7
Degree Total Hours: 40