2021-2022 Season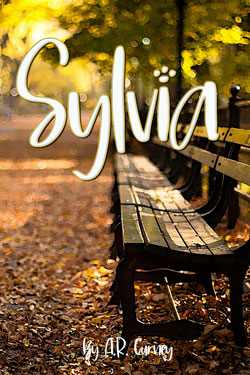 Sylvia
Sept. 9 – 26, 2021
SHOW CANCELLED
by A. R. Gurney
Greg and Kate have moved to Manhattan after twenty-two years of child-raising in the suburbs. One afternoon, Greg brings home a dog he found in the park—or that has found him—bearing only the name "Sylvia" on her name tag. A street-smart mixture of Lab and poodle, Sylvia becomes a major bone of contention between husband and wife. She offers Greg an escape from the frustrations of his job and the unknowns of middle age. To Kate, Sylvia becomes a rival for affection. And Sylvia thinks Kate just doesn't understand the relationship between man and dog. The marriage is put in serious jeopardy until, after a series of hilarious and touching complications, Greg and Kate learn to compromise, and Sylvia becomes a valued part of their lives.
---
At this time all reservations are going through the Box Office due to social distancing/limited seating and not being sold online.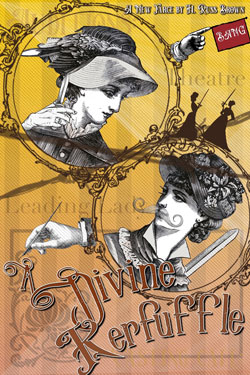 A Divine Kerfuffle
Nov. 4 – 21, 2021
by H. Russ Brown
The year is 1895 and Sarah Bernhardt is the greatest actress to ever grace the Victorian stage – just ask her! The "Divine Sarah" fears, however, her once bright star may be fading with all the attention suddenly being lavished on a talented, younger rival. When she stumbles across an incredible new script written by a naïve, but up-and-coming playwright, though, Sarah is convinced her path to theatrical immortality is assured… until her rival also gets her hands on a copy. Throw in a fuss-budget theatre manager, a stern Teutonic maid, a nimble-footed usher, plus a hilarious jumble of confusions and complications – and the stage is set for the ultimate showdown as the two dueling divas cross wits and blades in this world-premiere farce!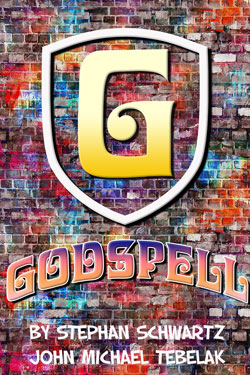 Godspell
March 24 – April 10, 2022
by Stephen Schwartz and John-Michael Tebelak
Based on the Gospel according to Matthew, Godspell was the first musical theatre offering from composer Stephen Schwartz, who went on to write such well-known hits as Wicked, Pippin, and Children of Eden. Breaking new ground when it appeared on Broadway in 1971, it features a comedic troupe of eccentric players who team up with Jesus to teach his lessons in a new age through parables, games, and tomfoolery. Featuring the international hit, "Day by Day", as well as an eclectic blend of songs ranging from pop to vaudeville, Jesus' final days come to life onstage. Even after the haunting crucifixion, Jesus' message of kindness, tolerance and love lives vibrantly on.
Let the Right One In
May 12-29, 2022
by Jack Thorne
Oskar is a bullied, lonely teenage boy living with his mother on a housing estate at the edge of town when a spate of sinister killings rock the neighborhood. Eli is the young girl who has just moved in next door. She doesn't go to school and never leaves the flat by day. Sensing in each other a kindred spirit, the two quickly become devoted friends. What Oskar doesn't know is that Eli has been a teenager for a very, very long time. An enchanting, brutal vampire myth and coming-of-age love story adapted from the international best-selling novel and award-winning film of the same name.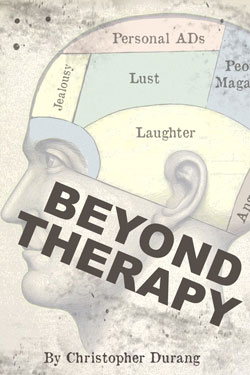 Beyond Therapy
May 12 –29, 2022
SHOW CANCELLED
by Christopher Durang
Bruce and Prudence are deeply into therapy. Prudence's macho therapist is urging her to be more assertive, while Bruce's wacky female therapist wants him to meet women by placing a personal ad. She does not fully comprehend that Bruce has a male lover who is not pleased by Bruce's desire to date a woman. Bruce doesn't know how to handle poor, nervous Prudence, and Prudence doesn't know what to make of her unpredictable new boyfriend. They do learn to live beyond therapy in this delightful Off Broadway hit that moved successfully to Broadway.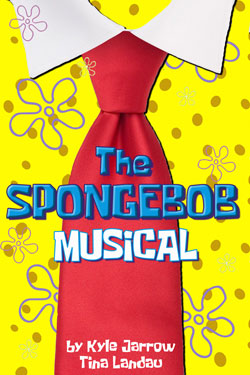 The SpongeBob Musical
July 7 – 24, 2022
by Kyle Jarrow and Tina Landau
Based on the beloved animated series, the stakes are higher than ever in this dynamic stage musical, as SpongeBob Squarepants and all of Bikini Bottom face the total annihilation of their undersea world. Chaos erupts. Lives hang in the balance. And just when all hope seems lost, a most unexpected hero rises up and takes center stage. The power of optimism really can save the world! Featuring original songs by a slew of stars including Steven Tyler and Joe Perry of Aerosmith, Sara Bareilles, Lady Antebellum, Cyndi Lauper, John Legend, and Panic! At the Disco – just to name a few!