2020-2021 Season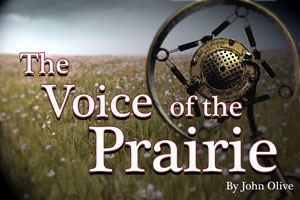 Online Streaming Only
The Voice of the Prairie
Sept. 24 – Oct. 11, 2020
by John Olive
An adventure about storytelling: As the play begins, an old hobo named Poppy by his avid companion, young Davey Quinn, is telling a tall tale. It is the early 1890s and itinerant story tellers like Poppy are the voices of the prairie. Years later, Davey is discovered by Leon Schwab, a radio entrepreneur, while he is telling stories about Poppy and Frankie, a blind girl he rescued from a cruel father. Through the new medium of radio, Quinn becomes famous on radio as the Voice of the Prairie. Fatefully, Frankie reenters his life and a new adventure ensues in this tale of love, loss and redemption.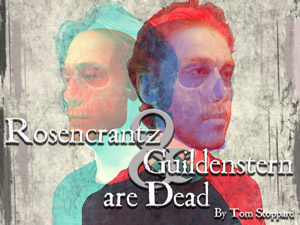 In-Person and Streaming
Rosencrantz and Guildenstern are Dead
Nov. 5 – Nov. 22, 2020
by Tom Stoppard
Acclaimed as a modern dramatic masterpiece, Rosencrantz & Guildenstern Are Dead is the fabulously inventive tale of Hamlet as told from the worm's-eye view of the bewildered Rosencrantz and Guildenstern, two minor characters in Shakespeare's play. In Tom Stoppard's best-known work, this Shakespearean Laurel and Hardy finally get a chance to take the lead role, but do so in a world where echoes of Waiting for Godot resound, where reality and illusion intermix, and where fate leads our two heroes to a tragic but inevitable end.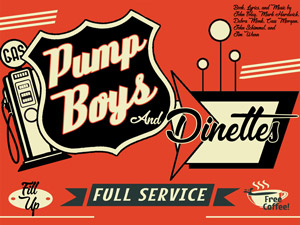 In-Person only
Pump Boys and Dinettes
Jan. 28 – Feb. 14, 2021
Book, Lyrics, and Music by John Foley, Mark Hardwick, Debra Monk, Cass Morgan, John Schimmel, and Jim Wann
The 'Pump Boys' sell high octane fuel in Grand Ole Opry country and the 'Dinettes', Prudie, Rhetta, and Dixie Cupp, run the Triple Cupp diner next door. With a crowd pleasing mix of hilarity and heartbreak, these blue-collar folk fashion an evening of country western / rock songs that received unanimous raves on and off-Broadway. Knee-slapping and toe-tapping good times are guaranteed in this down-home look at life along Highway 57!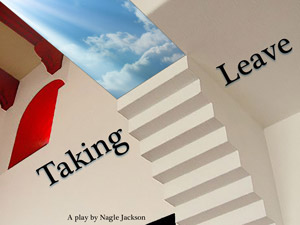 In-Person and Streaming
Taking Leave
Apr. 8 – Apr. 25, 2021
by Nagle Jackson
In the middle of the night, Eliot Pryne, professor of English Literature—specialty Shakespeare—is packing what he thinks is a suitcase and leaving what he thinks is a hotel. In the early stages of Alzheimer's disease, he is "taking leave" of the real world and imagining a new one, but the transition is painful. His alter-ego, seen only by the audience, charts this final voyage speaking as Eliot once did when he was the leading authority on Shakespeare's King Lear. The visitation of Eliot's three daughters, Alma, Liz and Cordelia, forms the central event of this oddly comic, yet fully sympathetic play that will have audiences laughing, weeping, and cheering.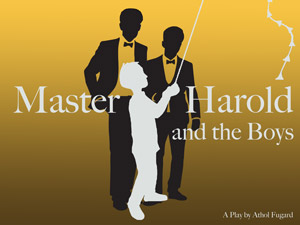 In-Person and Streaming
Master Harold and the Boys
May 20 – June 6, 2021
by Athol Fugard
A searing coming-of-age story during the apartheid era of South Africa, considered by many to be Fugard's masterpiece. A white teen who has grown up in the affectionate company of the two black waiters who work in his mother's tea room in Port Elizabeth learns that his viciously racist, alcoholic father is on his way home from the hospital. An ensuing rage unwittingly triggers his inevitable passage into the culture of hatred fostered by apartheid.
At this time all reservations are going through the Box Office due to social distancing/limited seating and not being sold online.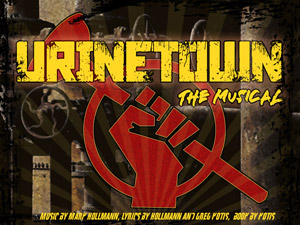 In-Person and Streaming
Urinetown
July 8 – July 25, 2021
Music by Mark Hollmann, Lyrics by Mark Hollmann and Greg Kotis, Book by Greg Kotis
A hilariously funny and touchingly honest Broadway smash musical, Urinetown provides a fresh perspective on one of America's greatest art forms. In a Gotham-like city, a terrible water shortage, caused by a 20-year drought, has led to a government-enforced ban on private toilets. The citizens must use public amenities, regulated by a single malevolent company that profits by charging admission for one of humanity's most basic needs. Amid the people, a hero decides that he's had enough and plans a revolution to lead them all to freedom!
At this time all reservations are going through the Box Office due to social distancing/limited seating and not being sold online.