Machinist CNC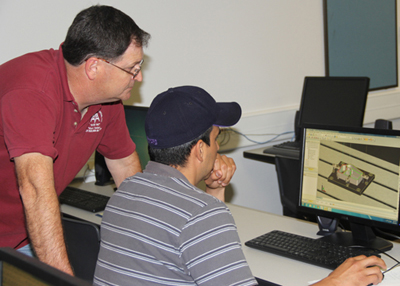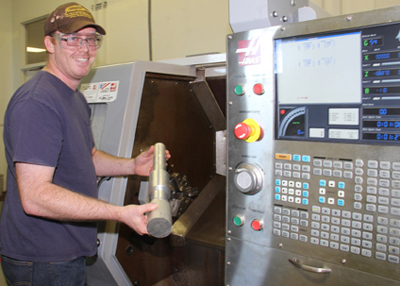 About the Career
CNC machinists work with computer numeric control (CNC) heavy machinery from set up to operation to produce parts and tools from metal, plastic or other materials. They program CNC machinery to cut, grind or drill material into a precise shape based on their plans.
Career Outlook
The Gulf Coast Workforce Development Board projects that by 2026 opportunities for CNC machinist will increase 23 percent. The average hourly wage is $27.14.
Completers of the program may find entry-level jobs in:
Petrochemical plants and refineries
Manufacturing and production facilities
Machine and fabrication shops
About the COM Program
COM's CNC Machinist Program prepares students for jobs in one of the fastest growing occupations. Each course combines classroom instruction and hands-on work with instructors with years of field experience. Classes meet two nights per week to accommodate work schedules.
How to Begin
New students must register in person with COM's Continuing Education Office located in the Technical Vocational Building Suite 1475. Returning students may register in person or online at www.com.edu/register. Textbooks are not included in the tuition. Students must complete the MMT Basic Occupational Skills Award and the Manual Machinist Occupational Skills Award to enroll in this program. Those who have two years of work experience as a manual machinist must seek approval from the director of CE industrial workforce programs before enrolling.
Minimum Age Requirements: 18 years of age or older, or have a high school diploma or GED
Financial Assistance
Texas Public Education Grants (TPEG) – This is a grant based on financial need and is available through COM's Financial Aid Office.
Hazlewood Act – This assistance is available to veterans, their spouses and eligible children and is available through COM's Financial Aid Office.
Workforce Innovation and Opportunity Act – This assistance is based on financial need and is available through Workforce Solutions.
Scholarships
CNC Machinist – Occupational Skills Award
Recommended Course Sequence
Course #
Title
Hours
MCHN-2003

CNC Programming

This course is a study of the programming and operation of Computer Numeric Control (CNC) machine shop equipment. Students will demonstrate operations of CNC machine controls; compare and contrast the differences between conventional and CNC machines. Prerequisites: MMT Basic OSA, Manual Machinist OSA or Approval from Direct CE Industrial Workforce Programs w/2 years of manual machinist experience.

124
MCHN 1026

CAD/CAM Mastercam

This course is a study of Computer-Aided Manufacturing (CAM) software which is used to develop applications for manufacturing. Students will use Mastercam software to create part programs and transfer programs to the machine control unit.

Prerequisites: MCHN-2003

64
MCHN-2038

CAM Multi-Axis

This course is a study of Computer-Aided Manufacturing (CAM) software Mastercam to create multi-axis part programs; transfer programs to the machine control units; and machine parts.

Prerequisites: MCHN-2003, MCHN-1026

64
Total
252
---
News
"It's really neat to be able to take a raw piece of material and change it to suit your needs."