Certified Nurse Aide Certificate
New CNA Testing Process
Texas HHS recently changed the vendor from Pearson Vue to Prometric. This change has impacted many students, and you may not be aware. If you still need to take your CNA state test, re-test, reschedule, etc. and were registered with Pearson Vue, you should have received an email from Prometric. If you did not receive an email and still need to test, please be sure to reach out to Prometric for further instructions at TXCNA@prometric.com. You can also reach out to us via email at CEAlliedHealth@com.edu.
About the Career
A vital part of the health care field, certified nurse aides provide compassionate basic care for patients. As a certified nurse aide under a nurse's supervision, you will help patients of all ages perform basic daily tasks.
Qualities for Success
Attention to safety, communication and critical thinking skills are essential because patients depend on your care.
Career Outlook
Employment opportunities are found in assisted living facilities, hospices, hospitals and long-term care settings, with a mean hourly wage of approximately $11.80. The demand for certified nurse aides is projected to increase 17 percent by 2024.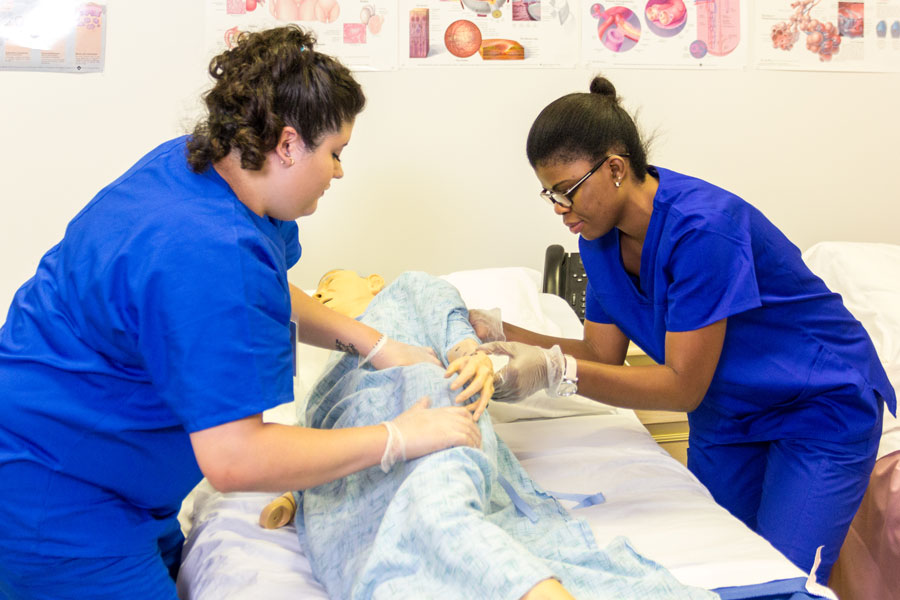 About the Program
Preparing students to flourish in a demanding role, the COM Certified Nurse Aide Program includes a combination of classroom and clinical instruction. All instructors are registered and licensed vocational nurses who teach from their experience.
Students may take evening or fast-track daytime classes.
Certification
Students successfully completing these courses will be prepared to take the state exam, Certified Nurse Aide.
Students will also complete the Healthcare Provider CPR training as part of their course work.
How to Begin
An application is required prior to registration: CNA Student Application. Clinical sites require participants to have updated immunizations, background checks, and verified IDs. The program applicant must pay this cost.
Financial aid is available for students who qualify.
| Course # | Title | Hrs |
| --- | --- | --- |
| NURA 1001 | Nurse Aide for Health Care I | 74 |
| NURA 1060 | Nurse Aide for Health Care II | 40 |
---
Notice to Students Regarding Licensing
Effective September 1, 2017, HB 1508 amends the Texas Occupations Code Section 53 that requires education providers to notify potential or enrolled students that a criminal history may make them ineligible for an occupational license upon program completion. The following website provides links to information about the licensing process and requirements: https://hhs.texas.gov/doing-business-hhs/licensing-credentialing-regulation
Should you wish to request a review of the impact of criminal history on your potential licensure prior to or during your quest for a degree, you can visit this link and request a "Criminal History Evaluation": https://records.txdps.state.tx.us/DpsWebsite/CriminalHistory/ and compare it to the requirements for CNA's here: https://hhs.texas.gov/doing-business-hhs/licensing-credentialing-regulation
This information is being provided to all persons who apply or enroll in the program, with notice of the requirements as described above, regardless of whether or not the person has been convicted of a criminal offense. Additionally, HB 1508 authorizes licensing agencies to require reimbursements when a student fails to receive the required notice.