Physical Therapy Aide Certificate
About the Career
A rapidly growing field, physical therapy can bridge the gap between a patient's injury or illness and their return to full activity. Physical therapy aides work closely with a physical therapist, helping with therapeutic exercises and documenting treatment.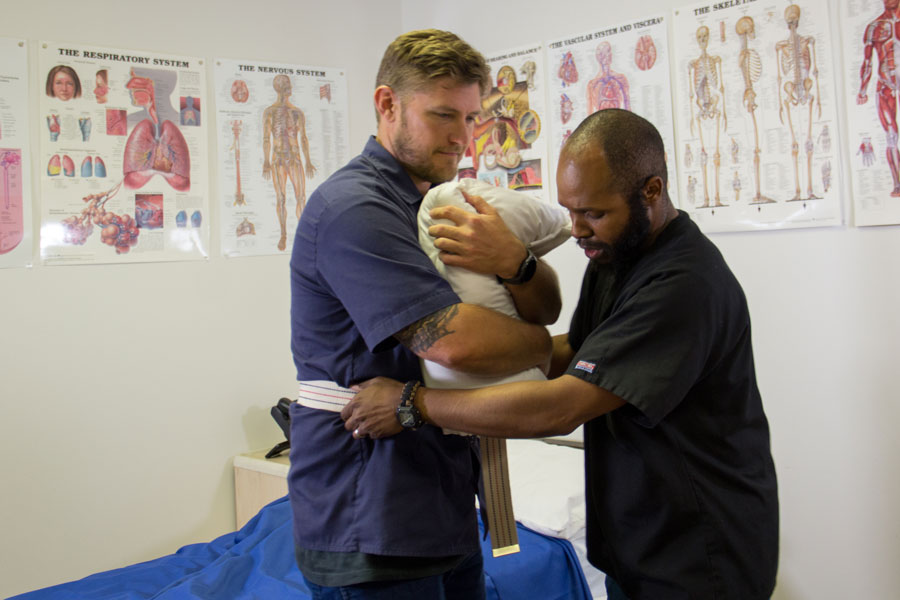 Qualities for Success
Compassionate, detail-oriented students with good interpersonal skills and physical stamina tend to do well.
Career Outlook
As new Gulf Coast health care facilities are built and others expand, physical therapy aides find employment at hospitals, outpatient clinics and home health care services. The average hourly wage for physical therapy aides is $11.48.
About the Program
The Physical Therapy Aide Certificate Program trains students for a rewarding career in just a semester. In the 13-week program students learn how to move patients safely, understand medical terminology and communicate with the medical team. Students earn a certificate of completion and CPR certification. There is also an opportunity for students to observe in a rehab facility for up to nine hours.

The program can launch a student into the health care field or serve as a stepping-stone to becoming a physical therapy assistant, a two-year program.
How to Begin
A high school diploma or GED is not required, but recommended to obtain employment.
The COM program is offered at a lower cost than many area programs, and students may qualify for financial assistance.
| Course # | Title | Hrs |
| --- | --- | --- |
| PTHA 1009 | Introduction to Physical Therapy | 88 |
---
Notice to Students Regarding Licensing
Effective September 1, 2017, HB 1508 amends the Texas Occupations Code Section 53 that requires education providers to notify potential or enrolled students that a criminal history may make them ineligible for an occupational license upon program completion. NOTE: Criminal history checks are required for clinical experience purposes.
Should you wish to request a review of the impact of criminal history on your potential licensure prior to or during your quest for a degree, you can visit this link and request a "Criminal History Evaluation": https://records.txdps.state.tx.us/DpsWebsite/CriminalHistory/